Bhubaneswar:12/12/18: Chief Minister Naveen Patnaik today announced the inclusion of 5 lakh additional beneficiaries under Madhu Babu Pension Yojana (MBPY).
The chief minister the beneficiaries will avail the financial aid per month as per criteria from December 15. The move comes to ensure that not a single eligible beneficiary is left out of the state government's scheme.
Besides, Patnaik also declared that 40,000 new beneficiaries under the "Mukhya Mantri Kalakar Sahayata Yojana" will get assistance Rs 1200 each, per month from December 15 onwards.
The Odisha CM also directed the district Collectors to disburse the assistance of both the schemes from December 15 to 20 by organising special camps at their respective areas.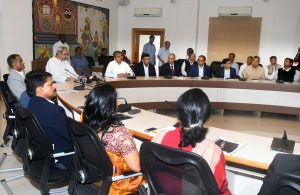 The Collectors have also been asked to take necessary help from Panchayati Raj representatives and social workers for the same. It is also learned that the prior to organising the 'PEETHA' camp, the people of the locality will be made aware of the scheme by such camps.
Chairing a review meeting on implementation of the 'PEETHA' scheme at the state secretariat here, the Chief Minister directed the district administrations to organise camps at block levels from December 15 and create mass awareness among the people about the schemes launched by the Odisha government for the benefit of its people.
The Chief Minister said that the move would bring transparency and enhance accountability and he should be personally monitoring the progress and achievement of the PEETHA programme.
Present among others were Chief Secretary, Development Commissioner, Secretaries of different departments, District Collectors and Block Development Officers.