Bhubaneswar:11/12/18:It's almost half a year the fans have been waiting for the news of Papu pom pom's upcoming venture. The comedy superstar & multi-talented Tatwaprakash Satpathy alias Papu pom pom was unwell and now he is ready to start his upcoming film but this time on director & music composer chair.Papu pom pom is back with Chirkut. The film will be produced by Akshaya Parija productions. The film will feature new faces and as per the title declaration invitation video, many famous Odia faces to debut on Ollywood silver screen with the film.
This film  is being made under the banner of  Akshay Kumar Parija production.The movie has feature several new faces as well experienced actors.This time, Papu will not be featured as the comedian, but a talented music director.In an announcement ceremony along with producer  Akshay Kumar Parija all the cast and crew of the film was present in city hotel.Papu  remained out of sight in media for over a year due to illness. As he is making Ollywood comeback after a long time, his fans are waiting to feel his presence in the industry as the music director as well as an actor in the comic role.CHIRKUT stars  Arojeet,Ananya,Krupasindhu,Samskriti,Deepak Tripathy,Harsita,Sidarth,Aravind jena,Sonu and Ayushi.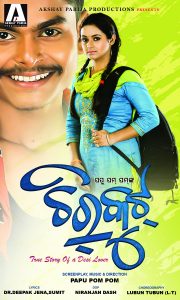 The story of Chirkut revolves around Desi  lover Chirkut ,   Everybody from School criticizes Chirkut for his behavior.When his examination result
came out one student insulted Chirkut for his bad result. Chirkut punished him someone tells Chirkut that Kalandi his father is looking for him. He goes home with great joy. His father beats him up for failing as  he failed in all  subjects and throws him out of the house. During  this bad period one of the  friend of Chirkut console him and advices him to have an affair with a girl so that love will blossom in his life .as his father thrown him out of house  in order to maintain his livelihood Chirkut decided to distribute the newspapers as a paper hawker. Durihg the distribution of news paper he came across Mitrabhanu Mishra as the relation  developed Chirkut fail in love with Shuvra, the daughter of  Mitrabhanu.  When Mitrabhanu finds out about
the affair and separates them. Story starts then. It is a complete package of love, romance, emotion & action. You may get super comic excitement with the similar trac and some super thrilling experience through the turn & twist.