Bhubaneswar, 8/12/18: Odisha CM Naveen Patnaik on Friday on 160 types of migratory birds of Chilika Lake.The idea behind the display is to not only take the beauty of the habitat to a larger audience, but to also disperse the conservation story to the world, and solicit contributions from all stakeholders towards ongoing conservation efforts at Mangalajodi.
Students from schools, colleges, as well as children from orphanages in Bhubaneswar and Cuttack have been invited to view and participate in the exhibition.Wildlife photographer from Odisha, Khemka is leveraging photography as a potent medium to not only showcase natural beauty but also to encourage engagement, collaborations, documentation, and discourse, highlighting the biodiversity of ecosystems and advocating the cause of conservation through photographic documentation.This exhibition is being organised by  Song of the Wild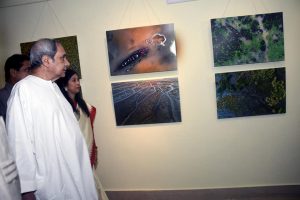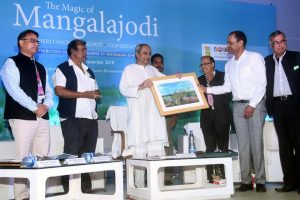 Song of the Wild is a not-for-profit organization that focuses on the need to document precious flora and fauna that face intense threat worldwide due to degradation of natural habitats, global warming and climate change. As a part of its core philosophy, the organization focuses on engaging the younger generation with natural habitats and outdoors, in order to inculcate the consciousness of nature conservation in them.Only 75 minutes away from Bhubaneswar, near Tangi, lies the magical bird paradise of Mangalajodi. Located at the north-eastern edge of Chilika lake, this 10 sq km patch of marshland has remained in the shadow of its famed parent lagoon.  Mangalajodi is one of the largest of the 132 villages that stand on the banks of Chilika Lake. It hosts more than three lakhs migrating birds every winter. The magical beauty of the habitat, its position of pre-eminence in the Chilika ecosystem, and the exemplary conservation story make Mangalajodi a gem in the biodiversity map of the world.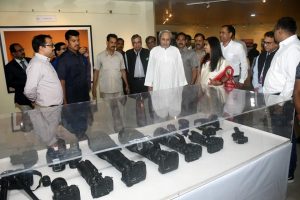 Avinash Khemka is a Odisha based amateur wildlife photographer. He has been photographing wild habitats in India since the last seven years. On his first ever visit to the Mangalajodi wetlands, he was dazzled by the magical beauty of the habitat as well as the jostling flocks of birds that seemed to carpet the scape and the skies. This pristine bird paradise that holds one of the world's greatest conservation stories in its folds, beckoned him again and again. As Avinash says – "on every visit I wished that I could just stay back and remain immersed in the soothing pristinity of nature's canvas." With state-of-art photography equipment to aid him, he began to capture the avian diversity and landscapes in his lens, through the seasons, year after year. The images presented in this exhibition have been curated out of more than ten thousand images of Mangalajodi captured over the last five years.