Bhubaneswar:7/12/18: A special pilgrimage train for senior citizens, under the Baristha Nagarika Tirtha Yatra Yojana (BNTYY), has been flagged off from Sambalpur station by Chief Minister Naveen Patnaik on Friday.
The train, flagged off through video conferencing today from the state secretariat, will take senior citizens to Rameshwaram and Madurai in Tamil Nadu. As many as 970 senior citizens from the western region of the state boarded the train.
Briefing media persons, Odisha Tourism Minister Ashok Chandra Panda said, "The Odisha government had decided to start pilgrimage trains for senior citizens under the Baristha Nagarika Tirtha Yatra Yojana."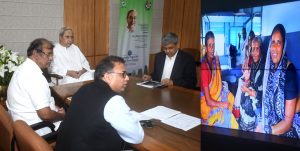 "Keeping that promise, it is being implemented since 2016 and including today's it is the eighth pilgrimage train. In the previous years, there were three such trains while from this year it will be six trains," Panda said and added that the next pilgrimage train will be flagged off in January next year."
Notably, senior citizens from below poverty line (BPL) categories are given 100 per cent concessions under the BNTYY scheme. People in the age group of 60-75 years are eligible to avail the benefit of the plan.
The Odisha government has also signed an MoU with the Indian Railway Catering and Tourism Corporation for the pilgrimage plan on the basis of which the company will provide all requisite facilities to the pilgrims in the train.