Bhubaneswar:5/12/18: The Odisha government on Tuesday accepted the appeal of Abhijit Iyer Mitra and decided not to accord sanction of his prosecution.
Mitra, who has been in Jharpada jail for over 40 days for hurting the religious sentiments of Odia people and insulting the lawmakers, was recently admitted to hospital.
Mitra has made an appeal to the Government of Odisha to consider withholding sanction to prosecute him in certain criminal cases pending against him, a statement issued by the home department read.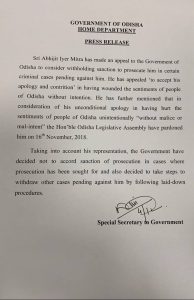 "Taking into account his representation, the Government has decided not to accord sanction of prosecution in cases where prosecution has been sought for and also decided to take steps to withdraw other cases pending against him by following laid-down procedures," the statement added.
He has appealed 'to accept his apology and contrition' in having wounded the sentiments of people of Odisha without intention. He has further mentioned that in consideration of his unconditional apology in having hurt the sentiments of people of Odisha unintentionally "without malice or mal-intent" the Odisha Legislative Assembly have pardoned him on 16th November, 2018.