Bhubaneswar:2/12/18: Braving the early morning chill, thousands of people including youths turned up for the OTV Mini-marathon organized on the occasion of World AIDS Day . It was a rare spectacle as the residents of the smart city of Bhubaneswar came together to extend support to the novel initiative of OTV to spread awareness about the deadly disease.
As this year's theme is 'Know Your Status', people vowed to get themselves tested for HIV in a bid to stop the disease from spreading.
Commanding officer of 120 infantry battalion, Lt. Colonel JS Bhadoria flagged off the 10th edition of the mini-marathon in presence of Co-founder and managing director of OTV Networks, Jagi Mangat Panda and mountaineer Kalpana Dash from 7th Battalion field near Kalinga Hospital today.
The mini marathon was flagged off from 7th Battalion ground and covered several prominent locations including Jaydev Vihar and Acharya Vihar.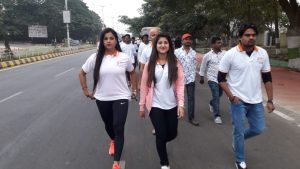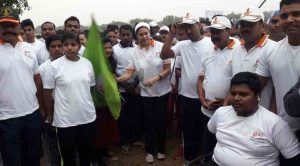 Several singers and Ollywood actors enthralled the audiences during a cultural programme organised to mark the occasion.
SBI CGM, Pravina Kala congratulated OTV for organising the mini marathon to raise awareness among people.
Director of AIIMS Bhubaneswar, Gitanjali B said,"Everybody needs to introspect and get themselves tested as it is this year's theme 'Know Your Status'. Everybody should run towards life and everybody should put health and wellness on top."
Co-founder and managing director of OTV Networks, Jagi Mangat Panda said, "We congratulate all those who have completed the marathon and hope to see you all next year."
Meanwhile Ollywood actress Anu Choudhury and Elina urged youth to give stress on fitness.
"Everyone's motto should be to remain fit and one should understand and implement the noble cause for which OTV has taken such an initiative," said Choudhury.