Bhubaneswar:1/12/18: Former Odisha cadre IAS officerr Aparajita Sarangi on Saturday called upon party workers to work on 'one team, one dream' principle.
Addressing workers and leaders at the party headquarters here after her felicitation, Aparajita said she returned to Odisha from Delhi because of the immense love and affection of the people.
"My life is dedicated to the development of Odisha," she said.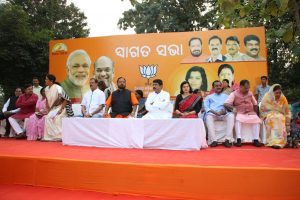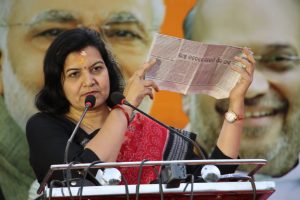 Stating that she has been deeply influenced by the work ethics and extraordinary working skills of Prime Minister Narendra Modi, Aparajita said she had been observing the politics in Odisha since last 25 years from close quarters. "From my experience, I can say that the time has come for a change of guard in Odisha," she observed.
She further said since the last few years the momentum in the development of Odisha had been derailed. "To justify this, there are a number of data which will be unfolded in the coming days," she revealed.
Talking about the development, she said while states like Andhra Pradesh and Telangana have made rapid progress, there is no reason why Odisha would lag behind and remain as one of the poorest states in the country.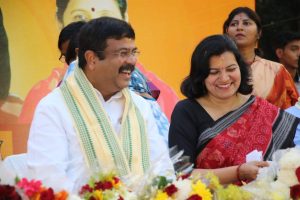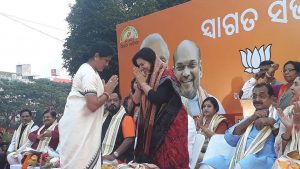 Talking about rampant corruption in Odisha, the former IAS officer said why people should offer percentage (PC) as bribe to the officials when they have the right to get their works done.
"I have come here leaving the remaining 11 years of my service to serve selflessly to make Odisha a model state in the country. This is possible if we work on the principle of 'one team, one dream'. Our dream is to make Odisha a strong and developed state," she urged the party workers.
Several state BJP leaders including the party state unit president Basanta Panda, vice-presidents Samir Mohanty and Bhrugu Baxipatra and Union ministers Dharmendra Pradhan and Jual Oram were present at the felicitation ceremony.