Bhubaneswar:30/11/18: The city is already in a celebratory mood due to Hockey World Cup. Add to this Zumba and flash mob at select public places by the Bhubaneswar Development Authority (BDA) and denizens of Bhubaneswar are literally grooving away before the New Year sets in.
In a bid to attract more and more people to the upcoming Bhubaneswar City Festival (.FEST) the BDA started a high octane outreach campaign near select city malls. Youth volunteers performed Zumba near BMC Bhawani Mall and Central Mall in Saheed Nagar and Pal Heights in Jaydev Vihar. The public also got enthused and joined the dancers.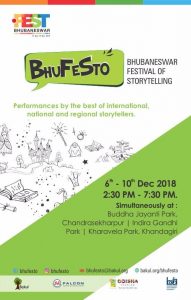 The first programme, Zumba, at Bhawani Mall started at around 5 pm and continued beyond 7 pm at Pal Heights Mall. From tomorrow, flash mob and street plays will be added to make the campaign more attractive.
Member Enforcement, BDA, Bhabani Shankar Chayani, who is coordinating the outreach programme for the upcoming Bhubaneswar City Festival, said the city has already opened 11 counters to sale the tickets for the .FEST through bookmyshow. While there are four offline counters at Ekamra Haat, BMC-Bhawani, Espladade, Central, and Pat Heights Malls have one each. In other places like KIIT University, SOA University, Market Building also there is one counter each." Sources also said that there will also be one counter in Cuttack at Bali Jatra Ground to attract visitors from the Millennium City.