Bhubaneswar:30/11/18: Minutes after BJP Rourkela MLA Dilip Ray tendered his resignation to Speaker Pradip Amat, senior leader Bijoy Mohapatra also resigned from the membership of the saffron party.
Mohapatra sent his resignation letter to BJP national president Amit Shah. In the letter, he stated, "We regret to state that despite repeated efforts in appraising you on the sorry state of affairs in the party here, neither you nor any senior central party leader bothered to consult, review or take corrective measures."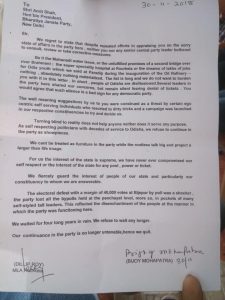 Dilip Ray &  Bijoy Mohapatra  Letter to Amit Shah
"Be it the Mahanadi water issue, or the unfulfilled promises of a second bridge over river Brahmani; the super speciality hospital at Rourkela or the dreams of lakhs of jobs for Odia youth which we sold at Paradip during the inauguration of the Oil Refinery —nothing, absolutely nothing materialized," Mohapatra stated in the letter.
He further stated that the list is long and we do not want to burden you with it in this letter. "In short, people of Odisha are disillusioned. Several leaders in the party here shared our concerns, but remain silent fearing denial of tickets. You would agree that such silence is a bad sign for any democratic party," he added.
"The well-meaning suggestions by us to you were construed as a threat by certain egocentric self-serving individuals who resorted to dirty tricks and a campaign was launched in our respective constituencies to try and deride us. Turning blind to reality does not help anyone neither does it serve any purpose. As self-respecting politicians with decades of service to Odisha, we refuse to continue in the party as showpieces," the senior leader said.