Bhubaneswar:29/11/18: "With our perseverance and commitment, higher education in Odisha will be truly internationalised and we will be able to make the state a Quality Higher Education hub of the country," said Chief Minister Naveen Patnaik on Thursday.
The Chief Minister was speaking at a workshop on Internationalisation of Higher Education organised by the Higher Education Department here today.
"Over the last two decades, Odisha has steadily progressed to become a hub of higher education and research. With a judicious synergy of Private, Central and State Higher Education Institutions in place, the State is marching towards its ultimate objective of achieving excellence in imparting knowledge, creating new knowledge and developing global competencies in its youth," the CM said.He said during the last few years, Odisha government has been introducing a large number of reforms to enhance quality, equity, access and inclusivity of higher education in the state.
"The Kalinga Sikshya Sathi Yojana — a loan assistance scheme at one percent interest, provision of laptops, Green Passage scheme for orphan students and several other schemes have been immensely helpful in bringing access and inclusivity," he added.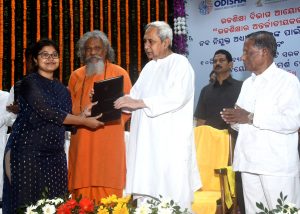 Naveen said the Odisha Higher Education Project for Excellence and Equity with loan assistance of World Bank is a transformative initiative to strengthen capacity and bring governance reforms in higher education.
"I am happy to learn that 182 MoUs have been signed between our Universities and National and International Institutions of repute for collaborative research, exchange programmes and knowledge partnership with industries," Naveen said.
On the occasion, the CM also launched the opening of Career Counselling Centres in 10 Universities and 52 Government Colleges. Creation of Career Counselling Centres in colleges and universities will help in increasing the employability and skill output of our students, he said.
Higher Education Minister Ananta Das, MP Prasanna Patsani, MLA Bijoy Mohanty, MLA Priyadarshi Mishra, Mayor Ananta Narayan Jena and Higher Education Principal Secretary Bishnupada Sethi also spoke on the occasion.