Bhubaneswar:28/11/18: Chief Minister Naveen Patnaik on Wednesday released commemorative postage stamp on the Odisha Men's Hockey World Cup, at the State Secretariat here.
The Odisha CM released the stamp hours before the commencement of the first match of the sporting event at the Kalinga Stadium here today.
The stamps aim at commemorating the 14th edition of the Men's Hockey World Cup in Odisha, which will kick-start Wednesday evening with Belgium taking on Canada and India playing against South Africa in Pool C.
Speaking on the occasion, Patnaik said, "I thank the Postal Department for producing these beautiful stamps at the time of the Hockey World Cup in Bhubaneswar."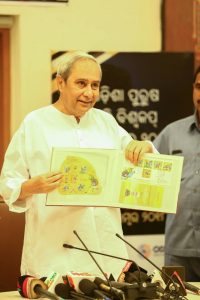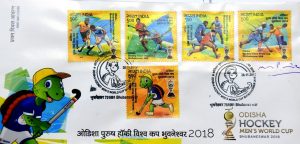 The Ministry of Communications and Department of Post, Government of India released a set of five stamps plus a miniature sheet today in order to commemorate this event of international value. Sports lovers and philatelists can immortalize their memories of this World Cup now by collecting the postage stamps.
Along with the stamps, the Government also released a first-day cover with a brochure detailing the entire information around the World Cup and Odisha. They will be made available from the 28th of November to the 16th of December 2018 only as of now.
Chief Secretary Aditya Prasad Padhi and Development Commissioner R. Balakrishnan were prominent among others present on the special event.
The Odisha Hockey Men's World Cup Bhubaneswar 2018 will kick off today and end on 16 December. Host India will start their campaign against South Africa today.