Newdelhi:27/11/18:The President of India, Shri Ram Nath Kovind, received the first copy of the book "Making of New India: Transformation under Modi Government", from Shri Arun Jaitley, Union Minister for Finance and Corporate Affairs. Shri Jaitley formally released it at a function held at Rashtrapati Bhavan today (November 27, 2018).
Speaking on the occasion, the President said that contemporary governance has played a vital role in giving shape and form to an all-inclusive idea of "New India". "Inclusiveness" is more than just a slogan. The government has taken this philosophy to the centre of its policy making. Numerous measures have been taken to ensure that socio-economic groups, communities and regions that had so far been left behind in the India growth story are mainstreamed in a holistic manner. This government has begun some foundational programmes and made a determined attempt to decisively defeat poverty and lift the lives of millions who have hitherto not got the facilities and services that they deserved.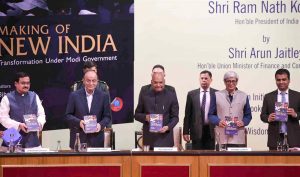 The President said it would, however, be incorrect to say that the development journey has been that of the government alone. The zeal with which ordinary citizens have participated also needs to be acknowledged. It has been heartening to see people voluntarily let go of subsidies and financial benefits so that the deserving and the truly needy can avail and access a life of dignity. It is common to see people selflessly doing shramdaan to change the status quo. It is this enthusiastic contribution by citizens of our country that is enabling rapid transformation.
The President noted that the book "Making of New India" endeavours at weaving together an assessment of various policies and programmes, and provides its readers a multidimensional view of the national development journey. He expressed confidence that the analysis and papers presented in the book would be helpful reference for both citizens and the government.
This book, edited by Dr Bibek Debroy, Dr Anirban Ganguly and Shri Kishore Desai, contains 51 essays on themes ranging from economy to diplomacy, education to public health.