Bhubaneswar:27/11/18: The world is here and the hockey craze at its zenith. The iconic Kalinga Stadium this evening dipped in vibrant colours after the grand opening ceremony of the Odisha Hockey Men's World Cup kicked off with a laser show with drones and fire crackers adding to the electrifying atmosphere.
No sooner than the chief Minister Naveen Patnaik declared Odisha Men's Hockey World Cup 2018 open, the crowd witnessed a vibrant drone show with the Hockey anthem 'Jai Hind Hind, Jai India' being played in the background.
"I welcome all the international hockey teams, the distinguished delegates and the hockey officials to Odisha. You are the guests of 45 million Odia people," said the Chief Minister.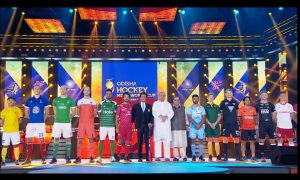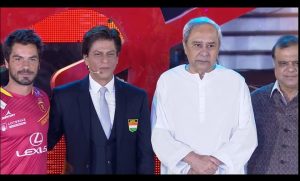 The spectacular fusion dance performances were choreographed by Shiamak Davar. He was joined by 1100 artists who danced to the tunes created by Ranjit Barot. It was one the highlights of the evening which left the audience spellbound. The show opened by the earth cracking and Madhuri emerging as Mother Earth, addressing the world at large as her children.
The bilingual script in English and Hindi with snatches of the Bhagvad Gita and philosophy of the Upanishads has been written by Nupur Mahajan.
Rahman brought to life his and Gulzar Saheb's composition Jai Hind Jai India' with a live performance, which is the official song and tune of the World Cup.
Bollywood star, Shahrukh presented over 2.35 crore collected heartbeats to the captains of the hockey teams participating at flagship FIH event.
Speaking on her role in the theatrical production, Madhuri said, "I was absolutely elated in playing the central role in The Earth Song as I particularly identified with the theme of oneness and its universal appeal. Mother Earth is a powerful character and to rise as her at a world stage by way of a live performance was a challenge and a unique opportunity."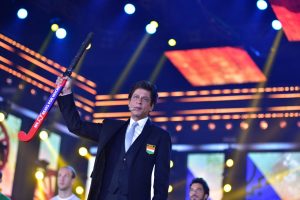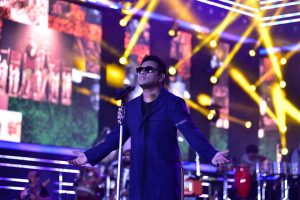 he 'Earth Song' act is choreographed by Aruna Mohanty for the eastern elements and Shiamak Davar offered his expertise for the western elements.
The act will be a perfect exhibition of fusion performances. The diverse performances will include Indian classical versions of Odissi, Mohiniattam, Bharatnatyam, Sattriya, Kathak and Kuchipudi and western versions of Ballet, Samba, Jazz, Afro, Balinese, Capioera and Contemporary.
The act will aim to connect the commonalities of the two cultures while displaying a full array of dance performance.
On November 18, Hockey India had released the much-awaited teaser of the official song of the 2018 Men's Hockey World Cup featuring music composer AR Rahman and Bollywood icon Shah Rukh Khan.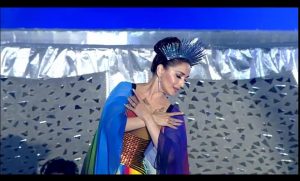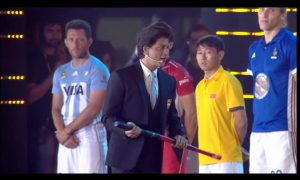 The 2018 Men's Hockey World Cup is slated to be held from November 28 to December 16 in Odisha.Prime Minister Narendra Modi sent his best wishes to all the teams participating in the Hockey World Cup. "A warm welcome & best wishes to all teams participating in the Hockey Men's World Cup 2018, being held in #Odisha. I am sure this tournament will be a treat for sports lovers & will also be an opportunity to discover India's & especially Odisha's culture," the PM tweeted.The event concluded with Gulzar's Hockey World Cup anthem 'Jai Hind Hind, Jai India'