Goa:26/11/18:Watching a film at IFFI may take only a little bit of your time in the form of registration, ticket booking and standing in a queue. But when you enter the theatre and see those handpicked movies from around the world, have you ever thought of the time and effort the film makers have put in making these films a reality? Two national film award winners who came together for a press conference at the 49th International Film Festival of India today in Panaji, Goa had a lot to say on this topic. 'Sinjar' and 'Nagarkirtan' are two movies that came to IFFI with the glory of national film award. When Pampally, Director of 'Sinjar' and Riddhi Sen, lead actor of 'Nagarkirtan' poured their hearts out about their hard-made films, it became another proclamation about the power of true content.
Pampally, who bagged the award for the Best Debut Director at the 65th National Film Awards, said that his story shows how international terrorism affects the life of an ordinary fisherman in Lakshadweep. "When terrorist attacks and conflicts happen around the world, we never thought how such incidents affect ordinary, uneducated people. This film tries to portray the hardships of such people", he said.
The distant location of Kavaratti Islands, the limited transportation facilities to mainland and the need for sanctions due to it being a union territory posed much difficulty in the production process, he added. He also explained the challenges he faced while doing a film in the local dialect of Jasari which lacks any script or grammar. "The script was first written in Malayalam and with the help of local youth, it was converted to the local spoken language. The actors were also given some training for pronouncing this dialect. These exercises turned it into a Himalayan task", said Pampally.
National Film award winner for Best Actor, Riddhi Sen said that playing the character of a transgender in 'Nagarkirtan' was a life changing experience for him. "The movie is about a transgender person who has a woman trapped inside a man's body. The transformational part from a man to a transgender individual was very difficult. The hardest thing was to capture the physicality of a woman and to maintain the fine line", he said. The film is a small effort to plunge into the darkness and help those people who are not accepted the way they are. He expressed hope that this film will change the attitude of at least one percent of society towards the third gender.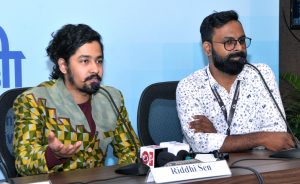 Backgrounder
SINJAR
'Sinjar' is the first film made in Jasari, a local dialect spoken in Lakshadweep islands. This debut feature film by  Shri. Pampally bagged two titles at the 65th National Film Awards — Best Debut Director and Best Jasari Film.
'Sinjar' revolves around Ansar, an ordinary fisherman living in Kavaratti (in Lakshadweep Island), his sister Suhara and his fiancee Fida. In 2014, Sinjar, a province in Iraq was turned into an IS killing field. Many Yassidi women and small girls were subjected to brutal sexual harassment and abduction during this period. The story tracks two housemaids in Iraq who are taken hostages along with the Yazidi women. They manage to flee the mountains after days of captivity and reach Lakshadweep, their homeland. But what awaits them is another nightmare. The movie captures the survival and fight of those two ladies against the communal situation in Kavaratti when they return.
NAGARKIRTAN
'Nagarkirtan' is  a Bengali feature film directed by Mr.  Kaushik Ganguly. The film received total 4 awards in categories of   Best Actor, Best Costume Design, Best Make-up Artist & Special Jury Award (Feature Film) at 65th National Film Awards of India . Mr. Riddhi Sen is playing the lead role of a transgender in this film. He has won the best actor award for the film- Nagarkirtan at 65th National Film Awards.