Bhubaneswar: 26/11/18:Health and Family Welfare Minister Pratap Jena on Monday released Information Education and Communication (IEC) materials to raise awareness on tuberculosis (TB) at the secretariat.
On the occasion, TB Survivors and Champions of Odisha announced the formation of the first state-level network – Kalinga TB Survivors Network – in the presence of the minister.
Speaking at the launch, Jena said, "This is indeed a milestone. The fight against TB is an arduous one. The men and women whose quotes are on the posters exemplify courage and perseverance. It is encouraging that they have taken on the task of being grassroots level advocates to fight stigma and myths on TB."The minister called for wide dissemination of the IEC materials.
The IEC materials were developed by REACH, an NGO, in collaboration with the State TB Cell and the Department of Health and Family Welfare, Odisha, and with the support of the United States Agency for International Development (USAID).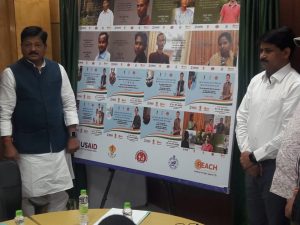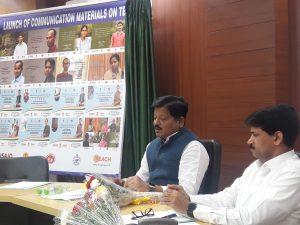 The IEC materials launched included outdoor collaterals featuring Odisha's Ambassadors in the fight against TB – Padma Shri Prafulla Kar, Padma Shri Sudarshan Pattnaik and Kuna Tripathy –on themes such as Active Case Finding, Daily Regimen, DR-TB, Direct Benefits Transfer, Myths and Stigma, Private and Public Sector Notification responsibility, Symptoms and Adherence. In addition, posters and videos featuring TB Survivors sharing their experience on TB were released.
Also speaking at the meeting, Principal Secretary, Health, Government of Odisha, Promod Meherda IAS, said, "The engagement of community members, private sectors and others are vital in the road towards TB elimination. We are happy to have today, posters that quote TB Survivors who have braved the disease."