Bhubaneswar:24/11/18: "There is no substitute for truth. Truth is God. Everybody should try to establish truth in their professional life," said Governor Prof. Ganeshi Lal on Saturday.
Attending the 9th batch of passing out parade of cadet sub-inspectors held at Biju Patnaik State Police Academy in Bhubaneswar, Ganeshi Lal said, "India is not a mere geographical entity. It is the living Goddess. Indian philosophy is very rich. It teaches us to be dutiful, truthful, honest and disciplined."
Gracing the programme as Chief Guest, Governor Prof. Ganeshi Lal took the ceremonial salute in a parade organised for the purpose by the Cadet SIs.
The Governor lauded the profession of a Police officer and called upon the passing out Cadet-Sub-Inspectors to be diligent, dutiful and disciplined in their Policing Career.
He also admired DGP RP Sharma and BPSPA Director Arun Sarangi for organizing such a beautiful programme. Sharma attended the programme as Guest of Honour.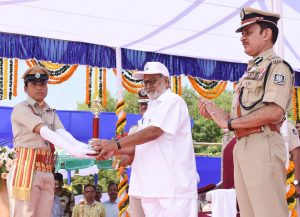 In his speech, Sharma said, "You are the future of Odisha Police for the next three decades or so". He gave five 'Mantras' to the passing out cadet SIs like Commitment, Courage, Co-operation, Integrity and Credibility.
He called upon the officers to apply these five gospels in their day to day professional work. In this context, Sharma said that 35 model Police Stations would be launched shortly in the State, one in each district for better service and smart policing to the citizens.

"Some of you may get the chance to serve in these Model Police Stations, said DGP. Sharma also thanked Governor for attending the programme amidst his busy schedule.
BPSPA Director spoke in detail about the training module of the cadet SIs in his welcome speech and thanked state government for recruiting a massive 606 Sub-Inspectors in a single batch.