Bhubaneswar:24/11/18:Chief Minister Shri Naveen Patnaik laid foundation on a mega water supply project under Buxi Jagabandhu Assured Water Supply to Habitations (BASUDHA) scheme. It will supply portable piped water to 147 villages of Puri and Ganjam districts. The project will treat water from Rushikulya River and supply it to 92 villages of Krushnaprasad block of Puri and 55 villages of Ganjam block. The ₹ 203.46 Cr project will be implemented by GVPR Engineers Limited within two years with five years operation and maintenance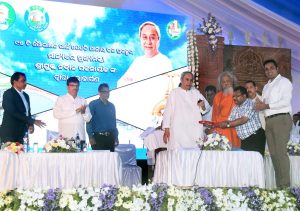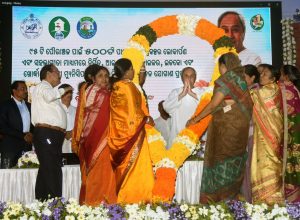 "I had announced the Basudha (Buxy Jagabandhu Assured Water Supply to Habitations) scheme to commemorate Buxi Jagabandhu on the occasion of completion of 200 years of Paik Rebellion. I am very happy to inaugurate 500 projects under the scheme," the CM said while addressing the gathering.
"Safe drinking water is highly important. Safe drinking water correlates to the health of people and people's health has a high impact on the economy of the country. Our objective is to provide piped drinking water to every household," Naveen added.
Housing and urban development Minister Niranjan Pujari, MP Prasanna Patsani, Khurda MLA Rajendra Kumar Sahu and other department officials were present at the event.