Bhubaneswar:24/11/18: Chief Minister Naveen Patnaik inaugurated the week-long 7th annual National Tribal Craft Mela 2018 at Tribal Museum Complex, SCSTRTI in Bhubaneswar on Saturday.
Development Commissioner R Balkrishnan, SCSTRTI Director AB Ota, other dignitaries, representative of other reputed organizations were present on the occasion.
"Our Tribal Museum is the best tribal museum in the entire country. We are giving it a new name i.e. the 'Odisha State Tribal Museum'," Patnaik said.
The Chief Minister released the Bilingual Tribal Dictionaries for Multi-Language Education and Trilingual Tribal Language Proficiency Modules in all the 21 Tribal Languages which have been formulated by the Special Development Council. Both will help in enhancing proficiency in the tribal language.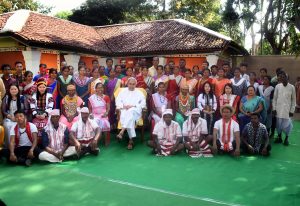 The National Tribal Craft Mela under the aegis of Ministry of Tribal Affairs of the Government of India will continue till November 30.
More than 150 tribal artisans from 14 states such as Andhra Pradesh, Chhattisgarh, Gujurat, Jharkhand, Manipur, Mizoram, Sikkim, Telengana, West Bengal, Madhya Pradesh, Uttar Pradesh, Maharashtra and Himachal Pradesh including Odisha are participating in the Mela.
Handicraft items, handloom products, iron, bamboo products, pottery, lacquer craft, tribal jewellery, dhokra, sabai & siali crafts, tribal textiles and embroidery, tribal paintings and many more will be displayed by these artisans during the 7-day long event. Govt. Organizations and NGOs, like TRIFED, ORUPA, WORLD ACT, ANWESHA, MAHA SHAKTI FOUNDATION, SCSTRTI and ATLC are participating in the mela.
The main objective of the National Tribal Craft Mela is to preserve, promote and popularize tribal traditional art and crafts and help the artisans to look for better opportunities to develop their skills through cross-cultural interactions for commercial viability.
It is expected to have a gathering of Thousands of tribal art lovers during the mela. Through organizing this Tribal Craft Mela, we urge media. NGOs and public including the tribal handicraft lovers to come forward to purchase the tribal products and bring the tribals into the mainstream of the society.