Cuttack:20/11/18: Twelve people were killed and several injured when a bus carrying over 40 passengers fell off a bridge over the Mahanadi river in Odisha's Cuttack today evening.
Police officials said a passenger bus from colliery town of Talcher was on its way to Cuttack when it came across a buffalo on the bridge near Jagatpur area, forcing the driver to slam the brakes. This caused the vehicle to smash through the bridge's cement railings and fall 30 feet to land on a sandbar on the riverbed.There was no water where the bus fell, said Cuttack deputy commissioner of police Akhileswar Singh, adding casualties may increase due to the severity of the accident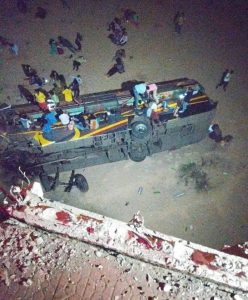 Expressing his deep grief over the deaths, chief minister Naveen Patnaik asked minister Chandra Sarathi Behera to rush to the spot and oversee rescue and relief efforts. He has announced compensation of Rs 2 lakh each to next of the kin of the deceased, and free treatment for those injured.
Odisha fire services director general BK Sharma said his men and local youth managed to pull out all the passengers from the bus which lay on the riverbed. "Rescue operations were hampered due to lack of light. Besides, it was difficult to approach the site by boat," he said. Over 40 fire services personnel were pressed in rescue operation.
Three days ago, the state assembly was told that a total of 43,312 persons died in road accidents in the state during last 10 years, or an average of 12 persons daily. Another 61,884 people were critically injured while 57,937 persons sustained minor injuries in those accidents.
.