GOA, 20th NOVEMBER 2018: Ending the long wait, the opening ceremony of one of the most prestigious film festivals across the world – the 49th edition of the International Film Festival of India (IFFI) opened amidst the presence of film stars, filmmakers and cine-lovers from across the world amid pomp and gaiety in Panjim, Goa.
The opening ceremony of IFFI 2018 was anchored by Mandira Bedi and Amit Sadh and saw the presence of eminent Indian and international film personalities such as Akshay Kumar, Karan Johar, Randhir Kapoor, Prasoon Joshi, Julien Landais, Barbara Meier, Nicolas Hau, Lois Robbins, Siddharth Roy Kapoor, Rakeysh Omprakash Mehra, Robert Glinski, Tom Fitzpatrick, Poonam Dhillon, Hrishita Bhatt, Madhur Bhandarkar, Subhash Ghai, Arijit Singh, Ramesh Sippy, Chin Han among many others. Apart from this, a host of celebrities walked the red carpet, adding a sprinkle of glitz to the ceremony.
The inaugural ceremony of the festival saw dignitaries such as Union Minister of State for Information & Broadcasting,(IC) Colonel Rajyavardhan Singh Rathore, Governor of Goa Ms Mridula Sinha, Secretary Information & Broadcasting Mr Amit Khare, IFFI Festival Director Mr Chaitanya Prasad, Chairman Jury Mr Robert Glinski, PWD Minister of Transport & River Navigation of Goa Ramakrishna alias Mr Sudin Dhavalikar, Chief Secretary of Goa Mr Dharmendra  Sharma and Chairman ESG Rajendra Talak who lit the lamp, thereby declaring IFFI 2018 open.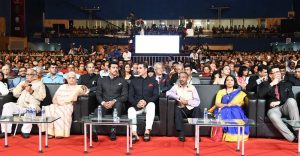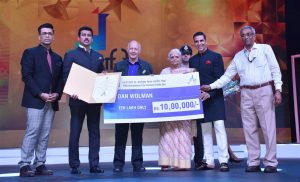 Union Minister of State for Information & Broadcasting, Col Rajyavardhan Singh Rathore said that "India is a land of storytellers where every person has a story to tell. These stories inspire and entertain us. IFFI is a platform for our young generation to showcase their talent. It is a platform for the international filmmakers to see India and explore the talent that we have. It is a great collaboration for both the sides. It is incredible of the Information and Broadcasting team and Entertainment Society of Goa to have an event on such a massive scale. There are Masterclasses held by experts in the entertainment industry and I hope the organisation involved is putting it online so that it reaches everyone. We are focusing on the past, the present and the future. Showing films like Sholay and also content from OTT platforms. It is a lovely time to come to Goa since this year we are having street cinema open to the tourists who are visiting the state for the next 9 days and they can experience this at IFFI." The Hon. Minister said this while walking the red carpet at the opening ceremony of 49th International Film Festival of India in Goa.
PWD Minister of Transport & River Navigation of Goa Ramakrishna alias Mr Sudin Dhavalikar said, "Goa is a state of colours and its effervescent culture and welcoming nature makes it a perfect destination to host IFFI. The festival aims at providing platform for cinema lovers and those from the field of art. At the 49th IFFI, I take this opportunity to thank Hon. CM of Goa, Manohar Parrikar who made sure that Goa got the privilege to host IFFI. He did not leave any stone unturned for its preparation since the first time it was hosted at Goa fifteen years ago."
Celebrated film star Akshay Kumar, who flew down in a charter plane to grace the occasion with his presence for a few hours, said, "There are so many things happening in India in the entertainment industry. Our Minister Mr. Rajyavardhan Singh Rathore is doing an incredible job of combining entertainment and education. It is very important to have films which have substance and meaning behind it. I am very thankful to the government that because of such films and initiatives there are lakhs of villages who get information free of cost and trigger massive positive changes."
The inaugural ceremony also witnessed some mesmerizing audio visual performances which started with a medley dance performance of songs from some of the best Indian films depicting the country's vibrant history. The versatile singer Shilpa Rao sang popular songs from across the country in multiple languages such as Bengali, Punjabi, Hindi and a beautiful rendition of the timeless, "Aaj Jaane Ki Zidd Na Karo." Actor Sonu Sood then took over and set the stage on fire with his dance skills.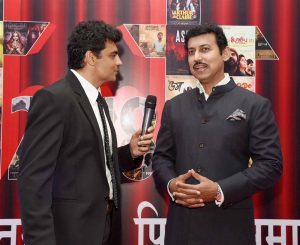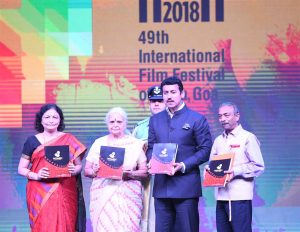 The most interesting part of the IFFI 2018 opening ceremony was an informal chat between the three luminaries on stage – Col. Rajyavardhan Singh Rathore (Union Minister of State for I&B), actor Mr Akshay Kumar and filmmaker Karan Johar. Karan Johar engaged the Minister and Akshay Kumar in an informal chat on sports and cinema and their journey through their careers.
Akshay Kumar spoke about his performance as the manager of the Indian Hockey Team in the recently released Gold a film based on India's historic gold medal win at the 1948 Summer Olympics. Gold is one of the sports based films also screening at IFFI this year as a part of the Sports Biopics section. The Minister spoke about how Indian sportsmen and women are excelling at the international level today and stressed the importance of cinema in building a vibrant sports culture  
The opening ceremony of IFFI 2018 also saw the launch of the Web Portal of Film Facilitation Office (FFO) that was launched by Col. Rajyavardhan Singh Rathore, the Union Minister of State (I & B). The Ministry of Information & Broadcasting set up the Film Facilitation Office (FFO) in NFDC in 2015 with a view to promote and facilitate film shootings by foreign filmmakers in India, the services of which have now been extended to Indian film makers as well. Film Offices set up by states highlight their film policy, their efforts to ensure a smooth filming process, showcase their locations and acquaint the filmmakers and the fraternity about the incentives/rebates/subsidies offered for filming in their respective states. In order to disseminate information regarding filming in India, the FFO has now developed a Web Portal.
Israeli master craftsman Dan Wolman was honoured with the Lifetime Achievement Award at the opening ceremony of the 49th IFFI. While speaking at the occasion, Mr Wolman said, "Thank you for honoring me with the Lifetime Achievement Award which is the highest award that I have ever received. It is sweeter because I am receiving it in India – a country whose people, culture and phenomenal cinema I truly admire. This year IFFI has chosen to focus on Israeli cinema. I am glad the films selected for this reflect the range of Israeli cinema. There is chemistry between India and Israel. I hope this chemistry manifests in co productions and collaborations in cinema."