Bhubaneswar:19/11/18: Chief Minister Naveen Patnaik inaugurated Bhubaneswar Art Trail 2018 (BAT) at Guajhara Compound of Old Town here on Sunday.
The month-long event along 1.3-km stretch of the Old Town in Odisha capital would showcase artworks by artists from all over the world. It includes several events that explore the underlying curatorial theme of BAT 2018 – 'Navigation is Offline'.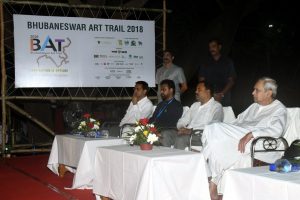 Speaking on the occasion, BAT curator Jagannath Panda said that the initiative is no mean task. "When you are working on a space like Old Town, which has so many layers of history manifested through architecture, monuments, walls, ponds, lakes, gardens and residential areas, it also becomes a responsibility. Our challenge was that how better could we represent and respond to this space and its community," he said.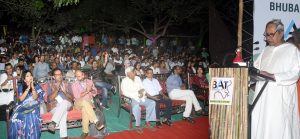 The curator further said that the art trail is an expression of the Old Town and its people. "This is how each community-based art project should evolve. It should be committed to excellent art making but it should also be dedicated to the possibilities of inspiring a vision for the community. That is why we are not limiting the trail to an exhibition," he added.
The project is an initiative by Utsha Foundation for Contemporary Art in collaboration with Odisha Tourism, Bhubaneswar Development Authority, Bhubaneswar Municipal Corporation, and Bhubaneswar Smart City Ltd.