Cuttack:13/11/18 :Veteran Odia singer Chitta Jena breathed his last at a private hospital here in the early morning on Tuesday. He was 76..
Family sources said that Jena had undergone a open heart surgery at the All India Institute of Medical Sciences (AIIMS) in New Delhi in 2016. But as his health condition had deteriorated, he was admitted to a private hospital three weeks ago.
The mortal remains of Jena were brought to his residence at Ranihaat where several Ollywood artists including Mihir and eminent personalities rushed to have a glimpse of the departed soul.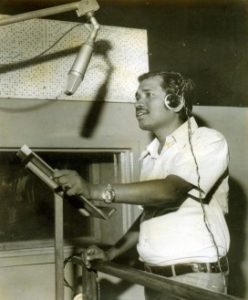 Born in 1941, Jena had first lent his voice in 1974 for the movie 'Mana Akasha' in which he sung 'Ae bana jharana nachi nachi jaana…
Jena had become a household name across the state with his mesmerizing voice in the songs 'Mo priya tharu kie adhika sundara', 'Rupa hoithiba labanyabati', 'Puja kahin puja', 'Ae bana jharana', 'Najare naja gori bali jatara dekhi', 'Manika alo manika''Ki Sundara Aaha Ki Aananda Maya'. Apart from this, some of his other songs like 'E parabata kunchi kunchi ka', 'Rupa heithiba labanyabati' and 'Topae luha' are still afresh in the hearts of the million of Odias. among others."It is hard to believe that he is no more with us. It is a colossal loss for the entire Ollywood industry. He was an extraordinary singer who had no guru," said eminent singer and music director Prafulla Kar.Home vidieo proprietorand actor Bapu Lenka said he was a gem in odia Music world.It is worthy to note that Chitta jena is father in law  of  Ollywood actor Mihir Das.The last rites of the veteran singer will be decided later in the day, family sources said
Flimography
Swapana Chhuin Chhuin Jaa [Kasturi (1988)] Barsha Nache Re [Kasturi (1988)] Jaanenaa Kebe Taku Dekhibi Aakhi Bhari [Mun Tume O Se (1985)] Rupa Hoithiba Labanyabati [Pooja Phula (1985)] Jhumi Jhumi Jauchhi Mana Nachi Jaauchhi [Kaberi (1984)] Nila Aakasha Nila Saagara [Radha (1984)] Pirati Kie Karichha Ki Kuhana [Subarna Sita (1983)] Luchi Luchi Sabu Dine [Subarna Sita (1983)] Jalenaa Saagara Jalenaa [Samaya Bada Balaban (1982)] Aarati Sajadi Basichhi Pujari [Pooja (1981)] Kahai Man Arey Mo Bola Kara [Bilwa Mangala (1981)] Ei Janhha Ei Raati Thari Uthe Mon Chhati [Trinath Mela (1980)] Paribani Dhari Mun Je Nila Pari [Trinath Mela (1980)] Rama Jibe Banabasa Rama Jibe [Ramayana (1980)] Dhali Dia Sara Dharani Re Aaji [Tapasya (1980)] Jhuli Jhuli Khele Boli [Tapasya (1980)] Ho Khiali Janha Mo Manuaa Janha [Ram Balaram (1980)] Mo Mana Ra Chadhei Taku Deli Udei [Ram Balaram (1980)
Ki Sundara Aaha Ki Aananda Maya [Gouri (1979)] Chikalika Bambalika Bam Bam Bam [Balidan (1979)] Pimpudi Bapuda [Chilika Teerey (1978)] E Gramara Chasa Bhai Maatira Samman [Samarpan (1978)] Samira Sure Gai E Jharana [Samarpan (1978)] Tuhme Mo Radha [Sakshi Gopinath (1978)] Jaya Jaya Deba Hare Narayana Narayana [Sati Anasuya (1978)] Kanhi Gale Shyama Ghana [Bandhu Mohanty (1977)] Na Jaa Sajani Pahini Rajani [Bandhu Mohanty (1977)] Haere Mote Kalia Naga [Bati Ghara (1976)] Kahare Kie Se Sabuja E Bana Nila Aakashe [Krushna Sudama (1976)] Mo Priya Tharu Kie [Sindura Bindu (1976)] Tuma Sadhira Ranga [Sindura Bindu (1976)] Haire Hai Garaje Megha [Sesha Shrabana (1976)] Manika Alo Alo Manika [Sesha Shrabana (1976)] Dekhi Se Bana Malli [Mamata (1975)] He Mora Babu He [Mamata (1975)] Mora Kania Suna Pania [Mana Akasha (1974)] E Bana Jharana Nachi Nachi Jaa Naa [Mana Akasha (1974)] Pirati Tora Duru Juhara [Dharitri (1973)]
.