Bhubaneswar:13/11/18: Chief Minister Naveen Patnaik skipped his keynote address and preferred to be volleyed queries from the Industry Captains at the MIO Plenary Session today.
The Odisha CM said, "I am sure all of us remember that when we were in school in the last class before lunch, all hungry and tired, and sleepy.  So keeping this in mind, I will make a very brief speech.  My printed speech will be circulated to all of you, and after the speech, we will have some questions that are answered."
The dignitaries' present at the dais then started asking the Odisha CM on various key issues to which Patnaik replied instantly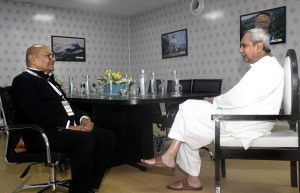 Chief Minister Naveen Pattnaik with Shri Anil Agrawal during a one-to-one discussion at #MIO2018 #JoinTheJuggernaut
The first to question Patnaik was Anil Agarwal, Vedanta Resources Plc chairman. Agarwal asked:Hon'ble Chief Minister, we talk a lot about Industry.  Would you highlight anything that Odisha has?  Like it's full of nature, Chilika Lake, Tourism; any of your plans, and how you make the world excited to come here? Any plan for tourism?
CM: Indeed, we do have a lot of potentials. We have historic temples, a huge coastline of almost 500 kilometres.  We have great Chilika Lake, wonderful beaches, wildlife parks. We are working very hard in the tourism sector and it's certainly been getting here, coming up very well.Industrialist Sajjan Jindal asked: How much importance do you give on the state of Odisha? Do you give the skill development much importance? So much of industrialisation is happening; skill development obviously has an important role.

CM: We have an excellent policy for skill development. We have a partnership with Singapore to which almost a 100 teachers went.  In fact, we are working so hard in it that we want people to say 'Are you skilled in Odisha?'  We are working very hard in this regard.

Apollo Hospitals Joint Managing Director, Sangeetha Reddy asked:  We have been coming to this beautiful city from 2009, the time we set up the first hospital. Since then, the city has become greener, cleaner and more beautiful.  You see a galaxy of industrialists.  They are so happy, they are breathing happily in your city.  We see the green city.  What is your environmental policy for the entire state?  This is my first question.  And the second is related to health.  May you please tell about your health policy?

CM: As far as the environment is concerned, the Odias are very tree-loving people, and Odisha is one of the few states where tree cover has grown more than the national average.  As far as health is concerned, we have a new health policy, which is no health insurance as you can call it.  While the Union Government's health policy is just for people below the poverty line, our health coverage is for everyone.

Reliance Industries Limited chairman, Mukesh Ambani asked: Hon'ble Chief Minister, I think the global investment community is enthused with Odisha. Can you share with us the priorities of the State as you would like to see investment flows in the next 3 to 5 years? So that the priorities are matched.  The second question is that you are passionate about sports and education.  Can you share with us, how we in the industry can contribute to your sports and education vision?  So that, we can link to the youth in the State.

CM:  As far asnvestment is concerned, we want to take advantage of the natural assets, what we have. Minerals assets should be developed and bring jobs to our people.  Apart from minerals, we would also like to develop industry in many other areas.  We are certainly succeeding in that.  As far as sport is concerned, the sport is for the youth and youth is for the future. So investment in sport is an investment in youth and investment in youth is an investment for future.    So we have been developing sports facilities.  I would like to thank Mr. Kumar Mangalam Birla for the state-of-the-art Shooting Institute.  I hope that we can produce many great players.  And you all know in this month, we are having the Men's Hockey World Cup in Bhubaneswar.
i