Bhubaneswar:13/11/18: Investment opportunities in Textiles, MSME, and health sectors were focused on the third day of the Make In Odisha Conclave here on Tuesday.
Participants expressed their views that the land of Jagannath has now become a hub for different industries and they are offered encouraging response from Odisha government to work on the fields of textiles, apparel, MSME as well as health sector.
One of the key speakers like HKL Magu, Chairman, AEPC shared his views on the opportunities for apparel industries in Odisha.  While  Sanjay Kumar Jain, Chairman, CITI offered his perspective on value addition in the textiles industry and the opportunities Odisha provides to investors. Shishir Jaipuria, Chairman, FICCI Textiles Committee dwelt upon the prospects of technical textiles in Odisha.
Speakers observed that the handlooms of the state are widely acclaimed world over. Availability of skilled manpower in  Odisha has always been the reason for investment in this sector, the speakers added. The architectural marvels in Bhubaneswar, Puri, and Konark speaks volumes of the skilled artisans of the state.
Industry leaders, as well as entrepreneurs, had a healthy discussion on investment opportunities in the state. They were of the opinion that public procurement in MSME has been increased from the current level of 20% to 25%.Speaking on the occasion, Prafulla Samal, Minister for Micro Small and Medium Enterprises observed MSMEs have a major presence in the Indian economy contributing to 37.54 percent of India's GDP. Samal said Odisha government has given priority for development of the MSME sector with a slew of measures and incentives.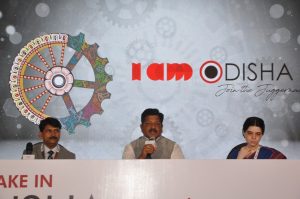 In the conclave, the other theme of the seminar was "Universal Healthcare in Odisha — each life matters". Minister for Health and Family Welfare Pratap Jena released Vision 2025 on the health sector. The seminar presented its initiatives, schemes, achievements, and opportunities for the private sector. The roadmap to achieve the vision was discussed at length and participants shared their thoughts on the topic.
The minister dwelt upon the flagship scheme Biju Swasthyu Kalyan Yojana for providing cashless services to insured patients. A number of partnership projects including, setting up digital dispensaries (Rs. 90 crores). diagnostic & dialysis services, (Rs. 700 crores) were discussed in the seminar. It also discussed affordable healthcare project at 25 locations (Rs 1.300 crore), cardiac care at Jharsuguda (Rs. 70 crores), cancer care projects (Rs 600 crore) and opportunities to set up manufacturing of pharmaceuticals and equipment.
The healthcare measures were appreciated, Dr. B R Shetty. Chairman, B R Life, UAE. Dr. Alok Roy, Chairman, Medica Group of Hospitals, Dr. Harish Krishnaswamy, Chief Operating Officer, Tata Trusts.