Newdelhi:12/11/18:The Global Cooling Prize, an international competition to incentivize the development of a residential cooling technology that will have at least five times (5x) less climate impact than the standard Room Air Conditioning (RAC) was announced at the inaugural session of the two day Global Cooling Innovation Summit in New Delhi today.
The prize is supported by Mission Innovation, the Government of India through the Department of Science and Technology and its partner organizations namely Ministry of Power, Bureau of Energy Efficiency, and Ministry of Environment, Forests and Climate Change and will be administered by a coalition of leading research institutes—Rocky Mountain Institute (RMI), Conservation X Labs, the Alliance for an Energy Efficient Economy (AEEE), and CEPT University. The coalition will drive and support incubation, commercialization, and ultimately mass adoption of the breakthrough technology, starting in India and expanding to other countries around the world. A winning technology could prevent up to 100 gigatons (GT) of CO2-equivalent emissions by 2050, and put the world on a pathway to mitigate up to 0.5˚C of warming by 2100.
Speaking at the inauguration, Principal Scientific Adviser to the Government of India, Dr.  K. VijayRaghavan said that a unique feature of Global Cooling Prize is that it presents pragmatic models for private sector engagement in clean energy research and development.  "This is exactly what Mission Innovation was set-up to deliver 3 years ago at the Paris Climate Summit – new collaborations between governments, innovators and the private sector to unleash innovation in climate critical technologies", said Secretary DBT, Dr. Renu Swaroop.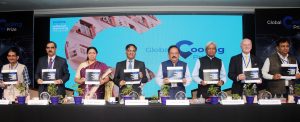 John Loughhead Vice-Chair, Mission Innovation Steering Committee and Iain Campbell, Senior Fellow at Rocky Mountain Institute also present at the inauguration expressed delight at the launch of the Global Cooling Prize and congratulated the Government of India for its leadership
Over US$3 million will be awarded in prize money over the course of the two-year competition. Up to 10 short-listed competing technologies will be awarded up to US$200,000 each in intermediate prizes to support the design and prototype development of their innovative residential cooling technology designs. The winning technology will be awarded at least US$1 million to support its incubation and early-stage commercialization.
There are currently 1.2 billion room air conditioning units in service around the world. It is estimated that the number of units will increase to at least 4.5 billion by 2050. India alone will see over 1 billion air conditioning deployed in the market by 2050. The energy consumption associated with comfort cooling represents one of the largest end-use risks to the climate, putting the most vulnerable populations at risk.