Bhubaneswar:12/11/18: More than 140 heritage walkers were spellbound with the beautiful performance of Odissi dance by the disciples of eminent Odissi dancer and Guru Ileana Citaristi at Art Vision, on the Western bank of Bindusagar today.
The recital of the classical dance during the penultimate part of the 99th Ekamra Walks, the first guided heritage walk of the city in the Old Town area, marks its return. Five students of Guru Ileana Citaristi performed "Srita Kamala Kucha Mandala" from the famous Sanskrit work Gitagovinda by poet Jayadev and an Odia poem "Sajani budigali mu lajare", both displaying the various "leelas" of Lord Krishna.
The second one depicted beautifully how the protagonist (Radha) blushes and tells her friend regarding the "Leela" of Lord Krishna.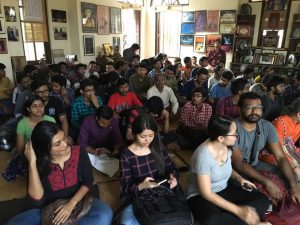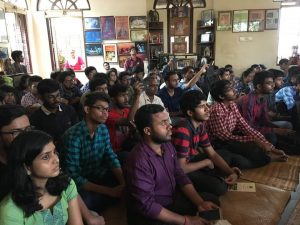 The Odissi Guru said "We will now be associated for another longer term so that the visitors of Ekamra Walks would have the opportunity to see the Odissi recital as the classical dance form is equally famous for its influences over Odisha and Odia culture."
While more than 100 students and their teachers were part of the walk, 40 walkers as participants of the normal Sunday morning group were part of the team today at the heritage trail and 35 participants came for the 23rd Museum Walk at Crafts Museum in Kala Bhoomi in the afternoon.
Delegates from the Make In Odisha (MIO) Biennale Conclave also took part in a special walk organized by the Museum authorities.
Hitesh Seth, a regular walker with the Ekamra Walks Old Town Circuit said, "I have been associated with this walk since beginning and now waiting to participate in the 100th one next week. As the first heritage walk of Ekamra Kshetra is going to complete its century, it would be a proud moment for all associated with this venture, which has created a new identity for the heritage city in India and all over the world."