Bhubaneswar:12/11/18:At FICCI National Executive Committee Meeting, Chief Minister Shri Naveen Patnaik highlighted state's 'Vision 2025' for industrial development in six focus sectors. He urged partnership between FICCI and state Government departments for bolstering implementation of various initiatives. Highlights from his address: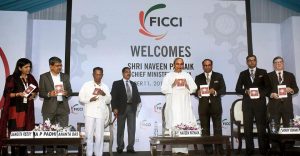 • Compliment FICCI for their role as National Industry Partner for Make In Odisha Conclave 2018
• Odisha is a pioneer state in skill development, and through 'Skilled In Odisha', is making the state's youth industry-ready
• Average time taken for project approvals in the state reduced to an average of 20 days
Welcoming all to Make In Odisha Conclave, he invited the executive committee members to explore business opportunities in Odisha and to plan a long-term association with the state.