Bhubaneswar9/11/18:: Chief Minister Naveen Patnaik today sanctioned Rs 35.93 crore for executing projects in 133 Gram Panchayats (GPs) of 5 blocks in 5 districts under the Ama Gaon Ama Bikash Yojana.
The blocks which got the sanction are Raighar in Nabarangpur district, Dasarathpur in Jajpur district, Baliapal in Balasore district, Tangi-Choudwar in Cuttack district and Biridi in Jagatsinghpur district.
While interacting with the block representatives through video conferencing at the State Secretariat here, Naveen sanctioned the financial assistance for 133 GPs.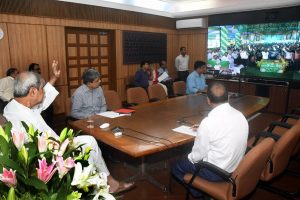 Of the sanctioned amount Rs 7.908 crore has been earmarked for 349 projects in 26 GPs of Raighar Block, Rs 10.50 crore for 480 projects in 35 GPs of Dasarathpur Block, Rs 7.29 crore for 305 projects in 27 GPs of Baliapal Block, Rs 5.73 crore for 350 projects in 24 GPs of Tangi-Choudwar Block and Rs 4.50 crore for 238 projects in 21 GPs of Biridi Block.
Adding today's sanctioned amount a total of Rs 1201.04 crore for 48,733 rural projects in 5276 GPs of 241 Blocks has been allocated by the Chief Minister under Ama Gaon Ama Bikash Yojana
Besides the Council of Ministers, MPs, MLAs, Chief Secretary, Development Commissioner, Panchayati Raj Department Principal Secretary and senior officers of various departments of the State Secretariat, concerned District Collectors, elected PRI members and the village people of the concerned blocks were also present.