Bhubaneswar:6/11/18: Chief Minister Naveen Patnaik on Tuesday flagged off 'Mo Bus' service for the denizens of Cuttack, Bhubaneswar and Puri.
After inaugurating the service, under the aegis of Capital Region Urban Transport (CRUT), near Biju Patnaik International Airport , he took his maiden bus ride in Odisha capital to reach office, the State Assembly.Naveen paid the conductor Rs 8 for his ticket.The passengers were seen taking selfie with him and discussing various topics.Notably, no security personnel were present in the bus while the Chief Minister was on board.The Odisha government launched the City Bus Modernisation Project under the aegis of CRUT.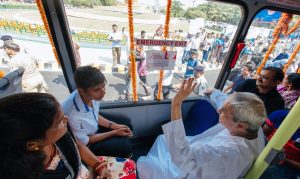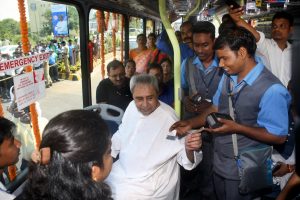 The bus service will be rolled out in three phases. In the Phase-I starting today, 100 buses started plying on 9 routes while in the Phase-II, 100 buses are slated to ply on 8 routes from November 15 and in Phase-III, 100 buses will be plying on 8 routes from December 10.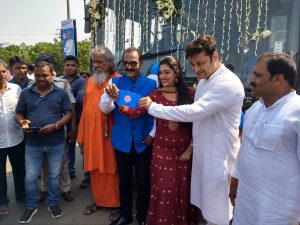 "Under this service, a total of 300 buses will ply in Cuttack, Bhubaneswar and Puri. More than 100 buses are already been engaged. To attract the youth, free WiFi services will be provided in the buses. CCTV cameras have also been installed for the safety of the women passengers," informed the Chief Minister.In an inauguration  Ollywood star cum Rajyasabha BJD MP Anuvab Mohanty and his wife actress Barsha along with OFDC chairman cum actor Kuna Tripathy was present.
Online ticket booking facility and a mobile app are also available.
"The conductor of these buses will be called bus guides. As many as 50 per cent women will be recruited as bus guides. Special facilities will available for the senior citizens," he added.The newly-launched buses are fitted with free Wi-Fi, CCTV surveillance, public information display system and on board announcements
.