Bhubaneswar:5/11/18: Chief Minister Naveen Patnaik on Monday launched the Odia Bhasa Brutti Puraskar (Odia language scholarship award) to encourage the students of Odisha in learning Odia language and culture.
In a video conferencing session held at the State Secretariat here, the Chief Minister gave away the Odia Bhasa Brutti to 3549 meritorious students who have scored more marks in Odia in the annual Class X examinations.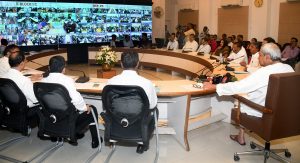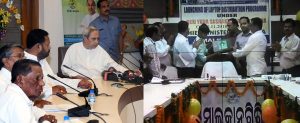 Besides, Patnaik also gave away the Mukhyamantri Medha Brutti (merit scholarship) to 35,490 meritorious students.
Moreover, 1061 schools were given the Utkrusta Vidyalaya Proschahana Puraskar in recognition of their efforts to encourage Odia language among the students.
Key Features of Odia Language Scholarship Award:
The scheme is a Scholarship for Excellence in Odia Language in School.
Cash Rewards of Rs 5,000 each for best performance in Odia subject in Class X exams.
10 Students from every block in the state, will be eligible for this award.
Aim of the program is to promote Odia language at the school level.