Bhubaneswar:29/10/18: Chief Minister Naveen Patnaik today, on the occasion of Odisha Disaster Preparedness Day launched the Early Warning Dissemination System (EWDS) and mass message system to provide timely information on calamity to public.
The early warning dissemination system is the first of its kind. Alert Siren System at 122 locations near the coast (within 1.5 km approximately) will cover Tourist Places, Fish Landing Centres and entire coastal habitations.
The Chief Minister also announced the programme for preparation of Village Disaster Management Plans (VDMPs) in 7000 villages in the first phase to build resilient community and to undertake a study on the vulnerability of landslides in Gajapati district for taking up preventive measures.
Gracing the programme as chief guest at Rabindra Mandap here, Patnaik offered condolences to the human lives lost in the recent landslide and heavy rains in the state.
Speaking on the occasion Patnaik said, "I offer my deepest condolences to the precious human lives, lost in the landslide and heavy rains.  At the same time, my sincere gratitude to all those who worked tirelessly, day and night, beyond the call of duty, to make sure that all those living in vulnerable areas of our coastline from Ganjam to Balasore were evacuated to safety."
"More than 3 lakh people were evacuated in less than 24 hours and I know, what intense efforts were put by volunteers, PRIs, CSOs and the administration, to achieve this mammoth task, Patnaik said.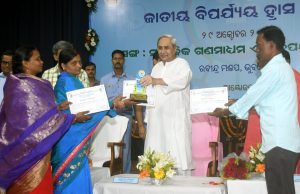 The Chief Minister also said, "In the face of a disaster of this magnitude, as a Severe Cyclonic Storm, the third most aggressive in the last two decades – if we could manage near zero casualty, along with entire coastline – the credit goes to each person who pitched in and also to the Odisha Disaster Preparedness System – the 879 shelter buildings, 20 ODRAF Units, 339 Fire and Disaster Response Units, the Early Warning Dissemination Systems, our partnership with RIMES Thailand, Earth Networks USA, deployment of Doppler Radars, our initiative of pucca houses and our scientific mock-drills with community participation."
"We have come a long way from 1999; however, we have some ground to cover as far as forecasting precision and vulnerability mapping, especially of interior areas where we had loss of lives and property. First time in the history of Odisha, we had a phenomenon of unprecedented landslides, leading to loss of life and property.  We will do a vulnerability mapping as regards to landslides in Gajapati district and will take steps to shift hill-top villages wherever required," Patnaik added.
Appreciating the efforts of rescue teams and IMD's role, Patnaik said, "I compliment the efforts of NDRF, ODRAF, Fire Services, OFDC and Voluntary Organisations, who in record time, have cleared thousands of trees. I also appreciate the role of IMD in helping us in our preparedness.  Quick restoration of water, electricity and essential services was done except in the most challenging pockets where work is on in full-swing.  Nearly Rupees 1300 crores have been provided for relief and restoration."
."