Newdelhi:27/10/18:"There is a great need to rethink and redefine development. We need a paradigm that combines development with sustainability", the Vice President of India, Shri. M. Venkaiah Naidu said at the Presentation ceremony of 'Earth Heroes Awards' 2018, here today.
The awards have been instituted by the Royal Bank of Scotland (RBS) and the eight winners for the year were chosen for their significant contributions towards protecting and conserving the valuable resources of our planet and for going above and beyond their call of duty to save the planet's ecological assets.
The Vice President congratulated RBS for the various projects they had conceived and carried out for strengthening communities, improving livelihoods and promoting conservation of fragile ecosystems. Having congratulated the winners for the year, the Vice President told them that their commitment, creativity and energy were truly exemplary.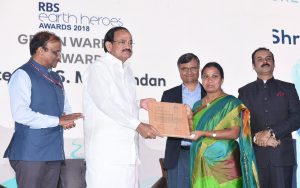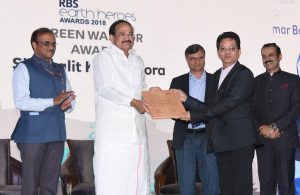 Recalling India's a great tradition of venerating nature, the Vice President observed that peace comes through equilibrium and balance and added that ecology gets disturbed if there is reckless over-exploitation. Sounding a warning that nature had inexorable laws, the Vice President said that our planet that has sustained life for billions of years, would be able to do the same for many more millennia to come, only and only if we take good care of it.
The Vice President expressed deep concern about unchecked and unbalanced development, rapid and wasteful extraction and consumption of natural resources, thoughtless waste disposal, excessive use of fossil fuels and rapid deforestation that are ravaging the planet. Dismayed, he added that the world had already lost 80% of its forests and that the air in our cities had become un-breathable.
Pointing out the drastic increase in the number of natural disasters the nation has been facing in recent times due to environmental degradation and climate change, the Vice President proclaimed that, there is a great need to make sustainability the core of our development philosophy. He argued that development and environmental conservation were not mutually exclusive goals.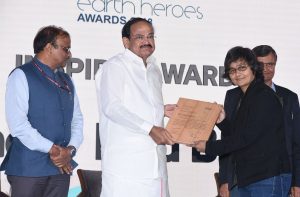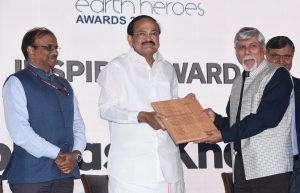 The Vice President applauded India's firm devotion to the cause of conservation and sustainable development, especially the gains made by the country in the field of renewable energy. He added that what India does can change the global conservation landscape at this point.
The Vice President expressed hope that RBS, who were primarily wealth managers would continue to contribute to the management of the enormous wealth that nature continuously provides humanity.
Dr. Brij Gopal, Mr. Peera Ram Bishnoi, Mr. Devender Singh Chauhan, Ms. Rita Banerji, Mr. Abhilash Khandekar, Mr. Lalit Kumar Bora, Late Mr. S. Manikandan and the Special Task Force (Wildlife), Madhya Pradesh Forest Department were honored with the 'Earth Heroes' awards.