Puri:25/10/18: Odisha Chief Minister Naveen Patnaik today inaugurated the month-long 'Kartika Habisyali Brata Yojana 2018′ through video conference from the State Secretariat here.
Addressing the Habisyalis at the pilgrim city of Puri, the Chief Minister said that the State Government has provided various facilities for them at Puri for observing their month-long 'Kartika Brata'. Accordingly, adequate arrangements have been made for their accommodation, 'darshan of Mahaprabhu' and 'prasad seban'.
The Chief Minister also said that the district administration is taking utmost care of them.
"Mahaprabhu's blessings are there upon all our good deeds. Hence, you all observe 'Brata' peacefully and be blessed with divine boon," told the Chief Minister to the Habisyalis.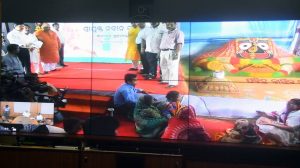 Notably, the State Government has made elaborate arrangements for the 'darshan' (divine glimpse), 'prasad seban' (pious fooding), 'prabachan' (religious discourse) and also healthcare facility for the Habisyalis.
Today's inaugural function was also attended by Tourism and Odia Language, Literature & Culture Minister Ashok Panda here at the State Secretariat while Revenue Minister Maheswar Mohanty, Agriculture Minister Padeep Maharathy and all the MLAs from the district graced the function at Puri amid the Habisyalis.