Bhubaneswar:20/10/18: Keeping its proactive role towards a cleaner environment, the Bhubaneswar Municipal Corporation (BMC) on Saturday ensured all Durga Puja idols immersed in the four immersion ponds at various places.
The idols were immersed in four makeshifts ponds-two near Kuakhai bridge and one each near Tankapani and Daya bridge.
While the immersion started early near Kuakhai and Tankapani, the Daya bridge immersion near Lingipur area started during late evening hours.
BMC Mayor Ananta Narayan Jena, Twin City Police Commissioner Satyajit Mohanty, Bhubaneswar DCP Anup Sahoo and other senior police and BMC officials and engineers were present at the Kuakhai site for the smooth operation of the immersion ponds.
BMC has also positioned adequate signage for the easy identification of routes for the various puja samities so that they can come and immerse the idols in the temporary ponds.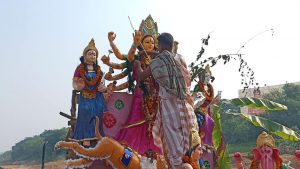 USE OF CRANE BY BMC
For the first time, the BMC engineering wing deployed a crane for easy handling and respectable immersion of the idols of Goddess Durga and her accompanying deities as it was found that throwing of the idols was looking very indecent for the devotees during the final journey of the Mother Goddess, who attracts so much of attention and honour for her grand festival every year.
Executive Engineer (Division-I) of BMC PSN Patro said, "Earlier, the immersion was done in the usual way and in the process, the various body parts of the idols were broken. This year, the crane helped the Puja organisers to lift the heavy idols and place them inside the largest immersion pond at Kuakhai, which is nearly 8,000 square feet in size."
At Kuakhai the second immersion pond is nearly 3,000 square feet in size. Both the immersion ponds near Kuakhai are under Division-I of BMC engineering wing. Similarly, the two others along Daya river-one near Tankapani bridge is of 4,582 square feet and the other near Daya river along Puri NH is of 2,784 square feet respectively under the Engineering Division II, of BMC.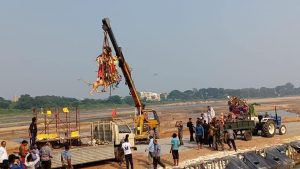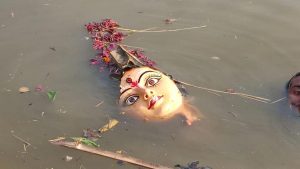 CLEANING NEAR PANDALS
The sanitation workers and sanitation agencies of BMC displayed their dedicated work for the cleaning of the areas near Puja pandals to keep them tidy throughout the Puja. Various organisers were also advised to use extra dustbins.
In order to make the people more aware during the festival, season hoardings were used with themes like public littering, restricted use of plastic/polythene, Swachha Bharat Abhijan near all Puja pandals. BMC has already started a radio jingle on cleanliness drive.
The Engineering Wing of BMC has ensured levelling all potholes near Puja pandals across the city. Nearby drains of Puja pandals were covered with concrete slabs. Streetlights near all Puja pandals were either repaired/problems addressed.