Amiya Ranjan is an engineer too. Yes, very few in Orissa
know that Amiya 'has a good B. Sc, Engg. (Mechanical) Degree .
. There is every reason in making this statement because Amiya has
risen in to great prominence in Orissa as a popular theatre arid film
personality, leaving behind his career as an engineer. Now when
this .53 year old thespian from Orissa looks back in the typical
Maslowian self actualization mode, he sees for himself a really
illustrious career in theatre and film, if taken out; will leave a big  vacuum in Orissa cultural terrain.
.
Theatre
Much before Amiya Ranjan passed out from the famous
Regional College of Engineering in the year 1976, fire for theatre
and film was lit in him and in every passing year hence forward,
the flame became more and more radiant.
Amiya Ranjan has excelled as an actor, director and producer
in the realm of Oriya theatre. Hisccntribution to the general
account of Oriya drama and theatre will not be ,less than 100 till
date.
Winning the prestigious award in the All India Drama
Competition in Allahabad in the year 1974 stands out in the long
list of laurels he earned through out his career. In 1978, he was
adjudged the Best Director in the Lok Natak Mahostav.
, .
"Pruthak Pruthivi" (A different world), "A Kalara Ekalabya"
( Ekalabya of this era), "Narkare Chahala" (Chaos in hell) and
"Byabhichar" (Anarchy) are some of the prominent ones in the long list of dramas Amya Ranj an has staged.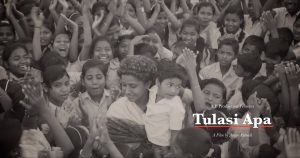 .
Film.
1983:        Amiya Ra~an's saga in film starts with National
award winning debut film 'Hakim Babu' (Oriya) which
also swept almost all the awards in. Orissa Govt.' s
annual awards in 1983. .
1984:        Directed and produced 'Mamata Mage Mula' (Oriya)
1986:         Produced 'Pua Mora Kala Tha.bra' (Oriya)
1988:         Produced 'Chaka Akhi Sabu Dekhuchi[ (Oriya)
1989:         Produced'Asuchi Mo Kalia Suna' (Oriya) '.
1990:         Produced 'Chaka Dola Karuchi Lila' (Oriya)
1990:         Produced 'Khola Chokh' (Bengali)
1992:        Produced 'Raja Rani' (Oriya) .
1993:         Produced 'Moner Mato Man' (Bengali)
1994:         Produced 'Paradesi Babu' (Oriya)
1994:         Produced 'Paradesi Babu" (Bengali)
1996:         Produced 'Pari Mahal (Bengali & Oriya)
2015:          Produced 'Tulasi Apa' (Oriya)
. From 1996 onwards Amiya Ranjan turned towards the small
. screen producing 'Jagte Raho', 'Anni', 'Maya ra sansara " 'Sasti',
. 'Bitarkita Aparahna 'Gotea Manara Koteia Swapna, Malajnha,
Horror Zone,
Position held
President, Orissa Film Producers' Association,
Member, Board of Directors of Orissa Film Development
Corporation,
Chairman, All Orissa Pharmacy College Association,
President of Techno Arts, a club of artistes who are
technocrats only,
President, "Pancham Veda", a leading theatre organization in
Orissa which lakes the lead in organizing Natak Mahastav
every year.
Founder member of Kanak Manjari Institute of
Pharmaceutical Sciences,.
Managing Director, Utkal Sambad Prakashan Pvt. Ltd,
publishing the largest circulated Oriya daily, 'Sambad',
Director, Radio Chaco late 104 FM,
Director, Kanak TV, an independent OriY3; TV'Channel, I
Member Association of Motion Pictures and TV Program . ~ .,
Producers(Mumbai),
Executive member Film Federation of India.
Distributor for General Motors, Maruti and TVS
Associated with a number of Engineering, Medical and other
allied professional colleges in Orissa.