Bhubaneswar:14/10/18:Chief Minister Naveen Patnaik today took an aerial survey of the situation in the flood-affected districts of Ganjam, Gajapati and Rayagada.
The Chief Minister left for the southern parts of the state in a helicopter from Biju Patnaik International Airport (BPIA) at around 10.40 am and landed at Rangeilunda Airstrip in Ganjam.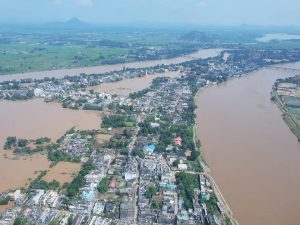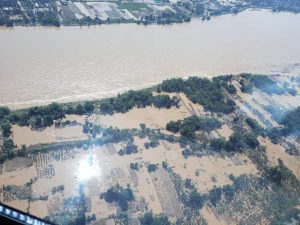 Soon after taking stock of the situation, Patnaik in his media reactions said, "Did an aerial survey of the flood affected areas in Gajapati, Rayagada & Ganjam districts; noted widespread damages to crops, roads, electrical installations etc. Rescue & relief operations are in full swing. All measures are being taken to reach every single needy person. Will review situation with all departments at 5 pm to direct further course of action.Appreciate the valiant efforts of divers from Indian Navy in undertaking high risk operations at Aska. They put their own lives in danger to save the lives of people marooned in their flooded homes post Cyclone Titli. We will take every possible step to reach each affected person with required help."
When asked about the Gajapati landslide tragedy, the Chief Minister said, "I've heard about the landslide. We're waiting for a detailed report. My deepest condolences for the bereft kin of the tragic incident."
Notably, the Chief Minister had reviewed the flood situation yesterday through video conferencing with the three Collectors of Ganjam, Gajapati and Rayagada, and had asked them to closely monitor the situation.
The Chief Minister had also formed a three-member ministerial committee yesterday evening to monitor relief, rescue and restoration activities in Ganjam, Gajapati and Rayagada districts which are worst affected by the very severe cyclonic storm Titli.