Newdelhi:12/10/18: Prime Minister, Shri Narendra Modi, today addressed the Silver Jubilee Foundation Day function of the National Human Rights Commission (NHRC).
He said that in the last two and a half decades, NHRC has contributed to nation building, by becoming the voice of the deprived and the oppressed. He said that the protection of human rights has been an important part of our culture. He said that after independence, elements such as an independent and impartial judiciary; an active media; an active civil society, and organizations such as NHRC are in place to protect human rights.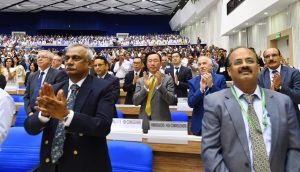 The Prime Minister said that human rights should not be merely a slogan, but also a part of our ethos. He said that in the last four years or so, a lot of serious efforts have been made to improve the quality of life of the poor. He said that the Government's focus has been to ensure that all Indians have access to the basic needs of human beings. In this context, he mentioned the achievements of schemes such as BetiBachao, BetiPadhao, Sugamya Bharat Abhiyan, Pradhan MantriAwaasYojana, UjjwalaYojana, and SaubhagyaYojana; and the transformation that has been brought about in the lives of the people as a result of these schemes. He said that the construction of more than 9 crore toilets, has ensured sanitation, and a life of dignity, for crores of poor people. He also mentioned the recently launched health assurance initiative – PMJAY – under Ayushman Bharat. He also spoke of the financial inclusion initiatives of the Union Government. He said that the law which provides relief to Muslim women from triple talaq, is also part of this series of steps taken to ensure basic rights for people.The Prime Minister said that the role of NHRC is also crucial for achieving the Sustainable Development Goals.