Bhubaneswar:11/10/18: Chief Minister Naveen Patnaik  inaugurated the new and improved Kalinga Stadium on    October,10,2018 which over the past few months has received world class upgrades, making it one of the premier destinations for sporting events in the world.
Speaking on the occasion, Chief Minister Naveen Patnaik said, "This is a momentous occasion for all of us in Odisha and we are proud to give India a world-class sporting complex in the form of Kalinga Stadium. We are excited and all set to host the Odisha Men's Hockey World Cup 2018 next month at the Kalinga Stadium. I am confident that it will be one of the many international levels sporting events that will be held in the state."
The 14th edition of Men's Hockey World Cup 2018 to kick off in Bhubaneswar in just a few weeks, the capital is all geared up for the prestigious hockey tournament.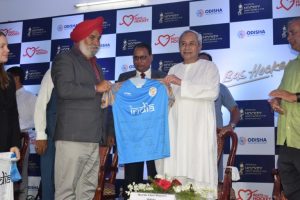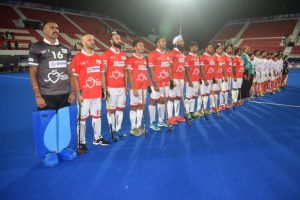 With an aim to provide best of the sports infrastructures, the Odisha government remodelled Kalinga stadium into an international sports complex providing facilities for all kinds of sports and games. Both practice and main pitches have been re-laid with new blue turf as per the FIH specification.
The stadium capacity has also been increased from 7500 to 15000 adding two new galleries in the north and south ends of the stadium for the spectators.
Also, as a part of the inaugural ceremony, hockey legends Dilip Tirkey and Dhanraj Pillay led their respective teams comprising of the current stars of team India who enthralled fans with an exhibition match. Hockey legend Sandeep Singh was also present providing special match commentary.
The match ended with team Dilip Tirkey edging out team Dhanraj Pillay with score line of 2-1.
Speaking on the occasion, Dilip Tirkey said, "It was a thrilling experience to lead my team in such an entertaining clash. It was a pleasure to play the first match in the Kalinga Stadium, the home of Hockey. The thousands in the crowd created an electric atmosphere helping us players to give our best."
Commenting on the exhibition match, Dhanraj Pillay said, "Odisha has always been a hot bed for Hockey with the Kalinga Stadium being the home. It was a great first match with Dilip's team and hope the boys got a good feel of the new turf. I really forward to see the boys go out and put in the performances to get the cup back home this December."