Bhubaneswar:10/10/18; Odisha Governor Professor Ganeshi Lal on Wednesday laid the foundation stone of country's first 2G Ethanol Bio-refinery in Bargarh in the presence of Union Petroleum Minister Dharmendra Pradhan
Bharat Petroleum Corporation Limited (BPCL) will set up the ethanol plant with an investment of Rs 1000 crore and it would be completed by December 2020.
"The newly introduced National Biofuel Policy-2018 has further expanded the criteria of raw materials which can be utilized for producing Bio-ethanol. This will greatly help in boosting production of ethanol towards our target to achieve 10% blending by supply year 2018-19," said Pradhan.
He said the setting up of BPCL Bio-Refinery in Bargarh will make a permanent solution to such problems with the economic development of the farmers to an amazing extent.It was NDA Govt. under former PM Atal Bihari Vajpayee ji which envisioned the EBP program in 2003 to help address environmental issues & provide boost to our agricultural economy. However, in the next 10 years between 2004-2014 the Govt. failed to achieve even 2% blending in fuel .The 2G Bio-refinery will be a harbinger of socio economic development in Odisha. In line with Hon. PM Shri Narendra Modi's vision of doubling our farmer's income, this green refinery will utilise rice straw as feedstock from the rice bowl of Odisha to generate energy from waste. The Ethanol Bio-refinery at Bargarh is Hon. PM Sh. Narendra Modi ji's 'Nuakhai' gift for people of Odisha. It's unique 'waste-to-wealth' model will help in reducing pollution, usher prosperity for farmers by providing them with additional income & increasing employment in Odisha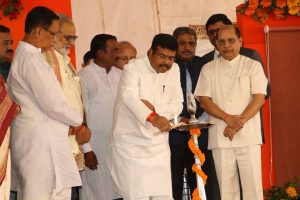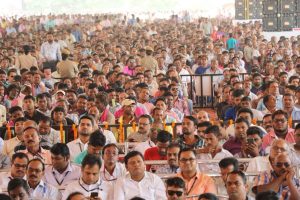 This Bio-Refinery which is the first of its kind to be set up will have a capacity to produce three crore litres of fuel grade Ethanol annually using rice straw as feedstock and the Ethanol produced from this plant will be blended with petrol. The cost of this project is around Rs. 1000 crores.
The National Biofuel Policy of India 2018 targets 20% Ethanol blending to petrol by the year 2030, however, due to non-availability of Ethanol, the current Ethanol blending in petrol is only around 3% to 4%.
Setting up of 2G Ethanol plants will help achieve the target of Ethanol blending in petrol.
The Bargarh Bio-Refinery will utilize about two lakh tons of rice straw annually as feedstock which will be sourced from nearby locations like Bhatli, Ambabhona, Attabira, Sohela, Burla, Lakhanpur etc.
The plant is based on Zero-liquid discharge plant (ZLD) technology where all the water will be recycled back into the plant. In addition to a cleaner environment, this project will also help improve the socio-economic conditions of the farmers due to additional income from the supply of waste rice straw to the Bio-Refinery.
Among others, Odisha Steel and Mines Minister Prafulla Kumar Mallik, Handlooms and Textiles Minister Snehangini Chhuria, Labour Minister Susanta Singh, Rajya Sabha MP Prasanna Acharya, Bargarh Lok Sabha MP Prabhas Kumar Singh, MLAs Debesh Acharya, Pradip Purohit and Rita Sahu were present.