Bhubaneswar:10/10/18:Nine women having excellent contributions to various fields, including education, health, environment, sports, etc., were worshiped at a function, Naba Matruka Puja, held on 9th,September,  Tuesday at  Arya Samaj,Sahid Nagar,bhubaneswar.
The puja was organised by the Naba Matruka Puja Abyarthana Committee, Bhubaneswar in association with the Jugashree Juganari monthly magazine and the Balweri Kalakendra and with the support of the Arya Samaj.
A yajna was conducted on the occasion. The participants opined that instead of idol worshiping, people should appreciate and felicitate live women leaders working for the interest of society in various sectors.
The event was chaired by Arya Samaj president Priyabrata Das in the presence of committee convenor Dr Shakuntala Baliarsingh and Jugashree Juganari editor Mamata Mohapatra.
It all started in 2011 on the day of Pratipada and continued till Nabami at Balasore. Each day a woman was felicitated. On the day of Dussehra, nine women were worshipped together at Brat Kalyan Mandap. It was organised by Balasori Kala Kendra founder Kesu Das in collaboration with the women's magazine 'Jugashree Juganari's' editor Mamata Mohapatra. The programme was appreciated by all and sundry and that's why the organisers decided to hold the event every year during Nabaratri.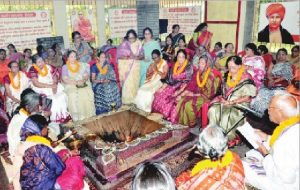 In 2012, nine dignified women from rural areas were felicitated at Naba Matruka Puja held at Dubulagadi school, 35 km away from Balasore city, in collaboration Das and Mohapatra. In the following year, a committee was formed in Bhubaneswar to celebrate Naba Matruka Puja at the state level. Litterateur Satakodi Hota and editor of a magazine, Sakuntala Baliarsingh, were chosen as its chairman and convener respectively. Engineer Priyabrata Das was chosen as its promoter. Among others, Kesu Das, Mamata Mohapatra, Saswati Bal, Prabhabati Panda and Birendra Kar played crucial roles in making the event successful in the state capital.
Noted women were honoured in Bhubaneswar in 2014 as part of Naba Matruka Puja for the first time. Though the programme was supposed to be held for nine days, it was held for a day due to the natural calamity that struck the state. Since 2014, Naba Matruka puja has been observed for a day. Apart from honouring and worshipping legendary women, a yagya is also held on the occasion. First lady Vedic priest of Orissa Shanno Devi conducts yagya and chants holy hymns of the Veda on the occasion.
In 2015, a committee was formed at Remuna to do Naba Matruka Puja, thanks to the effort of Kesu Das and Mamata Mohapatra. They started performing the puja at the block level for the first time. In 2016, they took it to district level and in 2017, the puja was  performed at the zone level.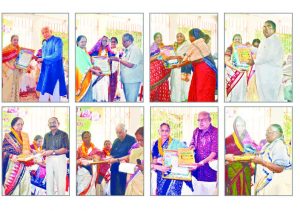 This year, women who are chosen to be worshiped and felicitated at Naba Matruka Puja  include scientist Prafulla Kumari Roy, litterateur, Susma Tej , educationist, Dr. Annapurna Devi,Medical science, Santalata Rath, social activist, Pramila Pati, social activist, Pramila Panda, Editor, Shyamamani Devi,Singer, Satyabhama Mohapatra, Handicraft Mother, and Sailabala Lenka,peasant mother
What They Say
Keshu Das, who is spearheading the campaign in association with 'Jugashree Juganari' and Arya Samaj, says: "Mothers are the living goddesses, who have been silently working for society, never expecting anything in return. This is a very humble attempt to honour and thank them for their lifelong contribution."
Priyabrata Das, president of Arya Samaj in Bhubaneswar and promoter of the Naba Matruka Puja, says: "Instead of worshipping nine deities made of clay on nine days during Nabaratri, a reform has been made as per Vedic lines to felicitate nine respectable elderly ladies (more than 75 years old) who have served society in different ways.
Mamata Mohapatra, editor of 'Jugashree Juganari', says: "Naba Matruka Puja is a unique practice to worship women. It's an attempt to create awareness among common people about the importance of mothers in our life. In this dog-eat-dog world, people love to spend time by showcasing fireworks as part of Dussehra celebrations. They do all sorts of unnecessary things but never bother about their mothers. They have no time for the living goddesses who shaped their future.
Sakuntala Baliarsingh, convener of Bhubaneswar Naba Matruka Puja committee, says: "We have been worshipping idols of Goddess Durga but don't respect the living women around us. We forget the commitment of mothers who shaped our lives. We hope this practice will bring about a change in the mindset of people and women will be respected and honoured. They say charity begins at home, and so must the trend begin in the family. Children must learn to respect their mothers. Changes will not take place overnight, but we are hopeful that gradually, the movement will bring some change in the mindset of people."