Satyabadi:9/10/18: Chief Minister Naveen Patnaik on Tuesday laid the foundation stone for the proposed Odia University at Bakula Bana in Sakhigopal under Satyabadi block of Puri district.
The varsity would offer post graduate courses in Odia language and literature. It would also facilitate research activities on literary criticism, evolution of East Indian language scripts, historical scripts, archaeology and translation into and from Odia.
Notably, five iconic leaders of Odisha— Pandit Utkalmani Gopabandhu Das, Pandit Krupasindhu Mishra, Acharya Harihar Das, Pandit Godavarish Mishra and Pandit Nilakantha Das— had founded the unique education system at the Bakul Bana in Sakhigopal in 1909, with students being taught in natural environment.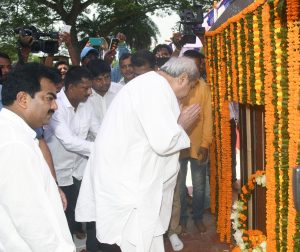 Earlier in the day, the Chief Minister offered floral tribute to the Panchasakha in the lawns of the State Assembly in Bhubaneswar. Later, Patnaik planted saplings at Bakula Bana with the holy soil and water brought from 30 districts of the State for the plantation drive.
Meanwhile, elaborate security arrangements were made in the area for the CM's programme. According to reports 18 platoons of police forces were deployed in the area to maintain law and order during the programme.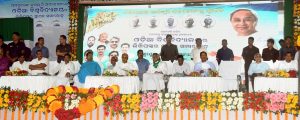 Among others, Panchayati Raj Minister Pradeep Maharathy, Revenue Minister Maheswar Mohanty and MP Pinaki Mishra were present at the event, higher Education minister Ananta Das, Satayabadi MLA Umakanta Samantaray, Brahmagiri MLA Sanjay Das Burma, Nimapara MLA Sameer Ranjan Das, Kaktpur MLA Surendra Sethi and Development Commissioner S Balkrushna were present on the occasion.