Bhubaneswar:7/10/18: Senior leaders at the State BJP's two-day extended executive meeting on Sunday took a pledge to overthrow the BJD government in Odisha in the ensuing Assembly elections scheduled next year.
Gracing the concluding session of the meeting, Union Textiles minister Smriti Irani came down heavily on Chief Minister Naveen Patnaik.
"The Naveen Patnaik government has grossly failed in the development of the state and providing adequate safety and security to the women. About 60 percent of women in Odisha are subject to physical torture," she said in her address to the meeting.
The Union minister also said that about 60 per cent women are suffering from anaemia in the state, and has a dubious record in malnutrition.
Taking a dig at the state government, she said the BJD government has deliberately decided not to implement the Ayushman Bharat Yojana due to vested political interests.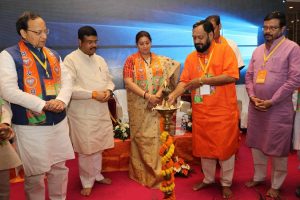 She also spoke about the failure of the state government in boosting the textile and handloom sector. "The state government is not keen to revive the defunct Odisha Textile Mills (OTM) which had earned name and fame in and outside the country for its quality product. "The Centre will take the necessary step to revive the OTM if the state government shows its keenness," she pointed out.
Talking about the hike in fuel prices, she said the Centre and the BJP-ruled states have reduced the excise duty and the Value Added Tax (VAT) respectively for the benefit of the consumers. But the Odisha government is yet to take any step in this regard.
Referring to the ensuing Assembly and Lok Sabha elections, Irani said the BJP has taken a pledge to dethrone the Naveen Patnaik government in Odisha with its 120 Plus mission.
Among others, Odisha Pravari Arun Singh, Union ministers Jual Oram and Dharmendra Pradhan, State BJP president Basant Panda and other senior party leaders were present.