Bhubaneswar:6/10/18: Chief Minister Naveen Patnaik today flagged off the 7th special pilgrimage train for senior citizens under the Baristha Nagarika Tirtha Yatra Yojana (BNTYY) through video conferencing from the Secretariat here.
As many as 1,000 senior citizens from four districts boarded the special train from Balasore railway station. The CM interacted with the senior citizens and wished them a happy journey. The senior pilgrims will visit Agra, Fatehpur Sikri and Mathura during their trip.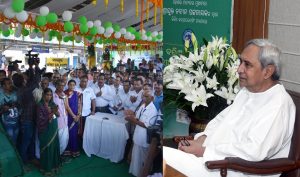 Expressing her gratitude, Ambika Mohanty of Rasabidyadharpur said she would never forget the service offered to them by the Chief Minister. "The CM has provided us the opportunity to go on a pilgrimage. It's a great accomplishment in our lifetime," the senior citizen added.
While about 3,000 senior citizen pilgrims of Odisha are having the pilgrimage opportunity through three special trains in a year fully sponsored by the State Government, from this year onwards it will be enhanced to six and 6000 beneficiaries will reap the benefit.
Under the BNTYY, three special trains leave for pilgrimage in phase wise from Bhubaneswar, Berhampur and Sambalpur. From this year, three more trains will start journey from Balasore, Titilagarh and Rayagada.
Notably, the Odisha Tourism Department has earlier successfully organized six trips under this scheme and 6000 senior citizens have already availed the benefits.