Bhubaneswar:5/10/18: Chief Minister Naveen Patnaik on Friday inaugurated Odisha Travel Bazaar in Bhubaneswar.
The Chief Minister thanked the Odisha Tourism and FICCI for this initiative to promote tourism in Odisha, the Soul of India.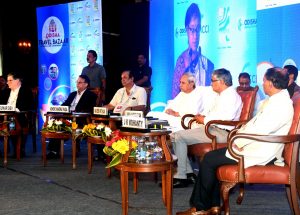 Odisha is a fascinating state with multifaceted tourism destinations. The state is lavishly gifted and marvellously endowed with a plethora of natural sites which spellbound each and every visitor visiting this mystic land to unravel the beauty of the state, he said.
The tourist arrival to the state is growing at a rate of about 9 percent per annum which is more than the global tourist arrival growth rate of 4 percent. This increasing trend of tourist arrival is a positive sign for the state, he added.
The strength of Odisha lies in its rich cultural heritage. Of late, new tourism products like Ethnic tourism, Buddhist tourism, Eco-tourism have gained momentum and attract a lot of tourists to the State.

Starting with Air Asia connectivity to Malaysia more International Air Operators will surely connect to Bhubaneswar in the coming days, said the Chief Minister. The recent development of the commercial airport at Jharsuguda will provide connectivity with the western part of Odisha which will boost tourism in that region.
"As you know, Odisha is all set to host the Hockey World Cup in November-December 2018 with 16 participating teams. This will certainly have a cascading effect on our tourism," said Patnaik.
Tourism Minister Ashok Chandra Panda said that tourism was a priority sector of the State.
This year's Odisha Travel Bazaar has witnessed the participation of 60 Foreign Tour Operators from 23 countries and several National Tour Operators from different parts of the country.