Bubaneswar:3/10/18:  Chief Minister Naveen Patnaik on Wednesday sanctioned Rs 38.86 crore for 163 gram panchayats (GPs) in eight blocks of six districts under the Ama Gaon Ama Vikash Yojana.
The blocks which got the sanction are Pattamundai in Kendrapada district, Chilika in Khurda district, Ghatagaon and Saharapada in Keonjhar district, Betanoti and Khunta in Mayurbhanj district, Muniguda in Rayagada district and Naktideul in Sambalpur district.
While interacting with the block representatives through video conferencing at the State Secretariat here, Naveen sanctioned the financial assistance for 1,480 projects after considering project proposal.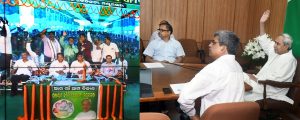 Of the sanctioned amount, Rs 8.18 crore has been earmarked for 310 projects in 31 GPs of Pattamundai block in Kendrapada district, Rs 4.25 crore for 122 projects in 17 GPs of Chillika block of Khurda district, Rs 6.01 crore for 160 projects in 26 GPs of Ghatagaan block and Rs 4.80 crore for 150 projects in 20 GPs of Saharapada block in Keonjhar district.
The Chief Minister also sanctioned Rs 3 crore for 187 projects in 17 GPs of Muniguda block of Rayagada district, Rs 3.12 crore for 157 projects in 14 GPs of Nakatideula block of Sambalpur district, Rs 6 crore for 269 projects in 24 GPs of Betanati block and Rs 3.50 crore for 125 projects in 14 GPs of Khunta block in Mayurbhanj district.
Adding today's sanctioned amount, a total of Rs 1073.49 crore for 43,412 projects in 4,738 panchayats of 218 blocks has been allocated by the Chief Minister under Ama Gaon Ama Bikash Yojana