Puri:3/10/18: The law and order situation in the Pilgrim City turned violent and prohibitory orders under Section 144 of the Criminal Procedure Code (CrPC) were imposed outside the Srimandir along the whole Bada Danda (Grand Road) area on Wednesday.
The police resorted to a mild lathi-charge and fired teargas to disperse the mob when they continued to stage protest outside the temple violating Section 144.
Meanwhile, two platoons of police forces have been deployed in the area to bring the situation under control and avoid any further untoward incident. Puri police led by Inspector General (IG) Soumendra Priyadarshi also conducted a flag march from Singhadwara to Market Chhak.
Director General of Police RP Sharma also talked to IG Soumendra Priyadarshi to discuss the situation. In a statement to the media, the DGP said that the situation is being continuously monitored by the police.
Earlier in the day, the irate locals barged into the house of Revenue Minister Maheswar Mohanty and vandalised the office of the Shree Jagannath Temple Administration (SJTA). They also pelted stones at Puri Superintendent of Police Sarthak Sarangi's residence and uprooted all barricades on Bada Danda.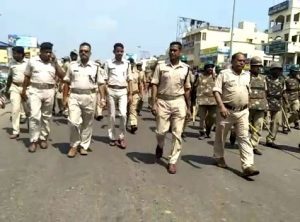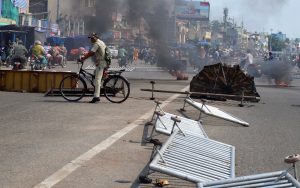 The dawn-to-dusk shutdown in the seaside town called by Sri Jagannath Sena turned violent as a mob barged into the 12th-century shrine, uprooted barricades erected on Baisi Pahacha and near Singhadwara. Besides, the protesters ransacked a police outpost and an information centre near the Singhadwara.
While around nine police personnel were injured in stone pelting, many structures suffered extensive damage in the mob attack, prompting the police to use mild force in order to control the situation, a senior police official said. Sri Jagannath Sena had given a call for Puri bandh to oppose the move. The agitation turned violent after the police picked up Sri Jagannath Sena convenor Priyadarshan Patnaik and held him under preventive detention
Normal life was crippled in the holy town as shops and business establishments, as well as educational institutions, were shut, while traffic came to a halt with protesters holding picketing and blockade at many places.Adequate police force was deployed in order to restore normalcy in the pilgrim town where the situation remained tense, the police said. Puri Collector Jyoti Prakash Das said quick steps were taken to bring the situation under control and prevent any further flare up.