Bhubaneswar:2/10/18;On a rainy morning, Khusi leaves for school, not very far from her home. In the same afternoon her father receives a gut wrenching phone call from police. Khusi is now hospitalized after being brutally sexually assaulted. Story of many unspoken emotions….
What a Father goes through…What a Mother goes through… Khusi has her dreams, aspirations & happiness.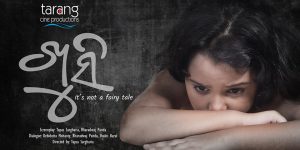 What would you do, if someone you know suffers the fate,What We go through…This will tell in Taranga cine production realistic  film Khusi it is not fairy tale Directed by Tapas Sargharia,Musics  of this film is being composed by Bibhuti Gadanayak,Debidutt Mohanty,Shakati Baral and Bhardwaja Panda has pen the dialogues film scheduled to be released on 14 th ,November,2018.