Bhubaneswar:2/10/18 :Citizens, leaders, politicians, students and people from all walks of life across Odisha paid homage to Father of the Nation Mahatma Gandhi on his 150th birth anniversary today.
"Humble tributes to the beacon light of peace, non-violence on Gandhi Jayanti. The revered ahimsa icon's immortal ideals for a just & equitable society will always be the guiding force for all of us," tweeted Chief Minister Naveen Patnaik.
Governor Prof Ganeshi Lal, Chief Minister Naveen Patnaik, Speaker Pradip Kumar Amat, Leader of Opposition Narasingha Mishra and several other ministers paid floral tributes to Mahatma Gandhi at his statue on the premises of Odisha Legislative Assembly.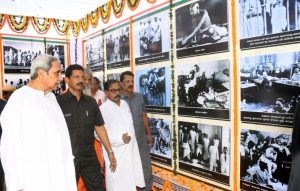 On the occasion, Patnaik inaugurated 'Mahatma Gandhi Setu' bridge over the Kushabhadra River along the Balianta-Balakati Road. The 380-metre-long bridge has been constructed at a cost of Rs 27 crore.
A photo exhibition namely 'Gandhiji & Odisha' was also inaugurated at Gandhi Smruti Peetha in Balianta on the outskirts of the city.
Notably, the Odisha Government has decided to organise a number of programmes for the 150th birth anniversary of Mahatma Gandhi which will be celebrated for two years from today.
Padyatras and memorial meets will be held across the State during the period. Besides, statues of Mahatma Gandhi will be installed in all district headquarters as well as the places where he had visited and one major road in the districts will be named as Mahatma Gandhi Marg.