BHUBANESWAR:1/10/18: Union Minister for Petroleum and Natural Gas Dharmendra Pradhan on Sunday reiterated that there was no secret understanding between the BJP and BJD and both remained prime opponents in the State.
Terming the speculation of an undisclosed pact as a figment of the imagination of the media, Pradhan said the regional party might have extended support to the NDA Government at the Centre on some issues but it was solely for its own political compulsions. The perception had gained momentum with BJD supporting the NDA candidate for President and following it up with not taking part in the no-confidence motion against Modi Government and again supporting the NDA candidate for the post of Rajya Sabha Deputy Chairperson.
Pradhan asserted that there was no question of any tie-up and the party is working hard to fulfil Prime Minister Narendra Modi's dream of installing a BJP government in the State.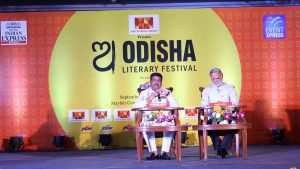 In conversation with Editorial Director of The New Indian Express Prabhu Chawla at the Odisha Literary Festival organised by TNIE here, the Union Minister said, "The Prime Minister during his recent visit to the State had given the task to the party workers to expose the inefficiency and corruption of the Naveen Patnaik Government. We are working very sincerely to realise his dream."
He stated that the Chief Minister has been opposing the Centre on major issues, be it for the state or for the nation. "We don't know why BJD shied away from the debate on the Opposition-sponsored no-confidence motion against the Modi Government. Naveen Babu has been opposing the BJP on all major issues including Aadhaar, Ayushman Bharat and demonetisation," he said.
The BJD has been expressing its opinion against the BJP outside but not inside the Parliament. They prefer to run away from the debate for reasons best known to them, he remarked