Puri:1/10/18: The Shree Jagannath Temple Administration (SJTA) today implemented queue mode darshan of deities at Jagannath temple in Puri amid protest by members of Jagannath Sena a local outfit.
There are reports of barricades being removed by outfit members who were protesting queue mode the darshan, said officials adding that penal action is being initiated against the trouble makers.
The queue system for darshan of deities at the Shree Jagannath Temple in Odisha's Puri was today flouted by many devotees as they uprooted the barricades and entered the temple.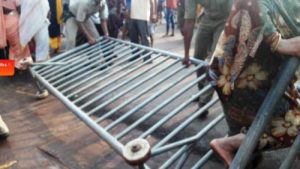 A scuffle ensued between the policemen deployed at the Singhadwara and devotees while the latter tried not to obey the queue system.
On being informed about the incident, Puri Collector and SP reached the spot and took stock of the situation.
"Those who were involved in creating disturbance and breaking the barricades have been identified by examining CCTV footage and action will be taken against them," said SP Sarthak Sarangi.
Worth mentioning, the queue system was today implemented for the first time by the Shree Jagannath Temple Administration (SJTA) on an experimental basis. It will be implemented once every week till the month of Kartik. This was done as per the suggestions by the Supreme Court towards the temple reforms.
As per the new system, devotees will form a queue at the Singhadwara and move inside the temple through barricades. After having darshan, the devotees will exit through three other gates. There are separate barricades for men and women. The move aims at ensuring smooth and hassle-free darshan of the deities.
.